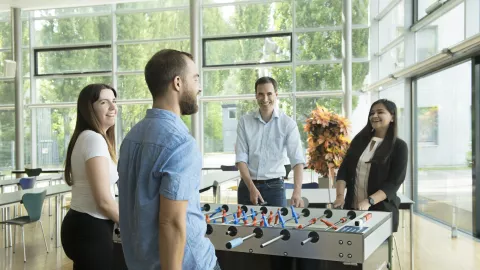 At AVL, it is not just about making our customers happy. It is important to us that our employees thrive in their work and enjoy being part of the team. That is why we offer a wide range of benefits.
Flexible working hours
Under the flextime model, we let you arrange your working hours flexibly to suit your needs.
Time-saving model
We let you build up time credits, which you can use in a variety of ways, such as through compensatory time off or by taking a sabbatical.
Homeoffice / Remote Work
Working from home can be arranged if possible and appropriate.
Internal training
The AVL Academy offers a broad variety of opportunities for professional and personal development.
Educational leave and part-time training
We support educational leave and part-time training to promote your personal and professional development.
Family-friendly working hours
We ensure you have the time you need to take care of that most vital aspect of life – your family – with parental leave programs, as well as part-time working options for parental or childcare reasons.
Financial subsidies
As a family-friendly company, we can help you celebrate special occasions such as weddings or births with congratulatory bonuses.
Company kindergarten
Though space is limited, we have an on-site AVL kindergarten offering child day care for our employees.
In-house healthcare
At AVL, we have occupational physicians and industrial psychologists to take care of your physical and mental well-being during office hours.
Healthmanagement
Our health management team ensures a healthy workplace all around. Health lectures and health checks are available, along with fitness courses such as self-defense and yoga.
Sports
 There are more than 30 different sports clubs to participate in, e.g. sailing, table tennis, running or motorcycling. Company sports clubs organize regular events and excursions, covering everything from running, yoga, football and much more.
Corporate events
At AVL, we want you to celebrate with your colleagues, so we have created a variety of events, such as our Summer Festival, Oktoberfest and our popular AVL Christmas parties.
Culture and health fund
We help you attend cultural events and sporting activities with a quarterly allowance.
Cultural Foundation
The AVL Cultural Foundation offers discounts on a variety of cultural events for employees.
Food and beverages
At the Graz site, there are currently two canteens where fresh food is prepared daily and four menus and a varied salad buffet are offered at reduced staff prices. As far as products are concerned, we focus on regional food and beverages from Austria (often from Styria) and the increased use of organic food.
Discounts
Enjoy employee discounts for more than 600 offers and services.
Commuting allowance
Travel costs for public transport journeys between home and work are mostly covered by us.
Credit cards
A credit card for private use is available, free of charge.
Notebook
Company notebooks can also be used for personal computing purposes.
13th and 14th paycheck
We add two additional paychecks to your salary (one for Christmas and one as a holiday bonus). This means your monthly salary is paid out 14 times instead of 12 times a year.
Comprehensive insurance
Your employment at AVL includes statutory insurance coverage (pension, unemployment and health insurance).
Relocation allowance
If you need to relocate from abroad, we will provide a relocation allowance.
Start apartment
When you first relocate, we can support you with a temporary apartment for the first few months in your new country.
German-language courses
To support seamless communication, we offer German-language courses for you and your family.
Immigration support
If you relocate from another country, we will handle the immigration process for you, including obtaining a work permit and residence permit.