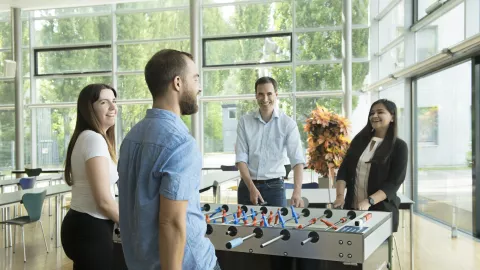 *Our benefits are partially dependent on location, job role, and/or contractual arrangement. Our recruiting team will be happy to provide you with more detailed information about this in a personal conversation.
Flexible working hours - Whether you're an early bird or a night owl, within the framework of our flextime model, you can determine the start and end of your daily working hours yourself. Furthermore, we offer a variety of working time models to best accommodate your individual needs.
38.5 hours - The standard working time is 38.5 hours for a 5-day week.
Home Office - We aim to provide you with maximum flexibility. In consultation with your supervisor, you have the option to work from home.
Time-saving model - Should you need to work longer hours on occasion, you can build up time credits and use them on an hourly or daily basis. Enjoy up to 3 bridge days per year, during which you automatically have time off and can enjoy extended weekends.
Sabbatical - We love our work, but we understand that sometimes a short break is needed to recharge. In consultation with your supervisor, you can take a sabbatical. It allows you to accumulate time initially and then use it for travel or other endeavors. Our HR department will gladly provide you with more information on the various possibilities.
Loyalty leave - We are particularly proud that our employees tend to stay with us longer than the industry average. As a small recognition, after 10 years at AVL, you will receive two additional vacation days per year. After 25 years of service (limited credit for school time/training/previous service possible), you will receive a 6th week of vacation.
December 24 and 31 off - In addition to your vacation entitlement, you have December 24th and 31st off with full pay.
In-house healthcare – Your health is important to us. That's why we have an in-house team of occupational physicians and industrial psychologists who take care of your physical and mental well-being.
Health management – Health lectures and seminars (e.g., Eating Better while Working from Home or Mental Well-being), as well as health check-ups (e.g., Skin Cancer Prevention, Preventive Examinations), along with regular vaccination campaigns, are just some of the many measures offered by our AVL Health Management Team.
Workplace – We provide comprehensive training and materials to help optimize your health at the workplace, such as guidance on taking screen breaks or setting up your workspace ergonomically.
Sports and fitness – Our company sports club offers more than 30 different sections you can participate in, such as sailing, table tennis, running, or motorcycling. The company sports club regularly organizes sports events/trips and offers ongoing courses like running groups, cricket, soccer, or yoga.
Internal training – Our AVL Academy offers personalized career development through a wide range of technical and personal training programs and further education opportunities. Additionally, you have the chance to gain insights into different areas through job rotation.
Educational leave and part-time training – By enabling educational leave and part-time training, we aim to promote personal and professional development.
Celebrating success together – Last but not least, it's important for us to celebrate successes together. Join your colleagues at various company events such as the summer festival, Oktoberfest, or our popular AVL Christmas parties.
Family-friendly working hours – Through targeted measures, we support you in maintaining a balance between work and family (e.g. parental leave or flexible work schedule models, such as no fixed core hours).
Childcare – For your children, the option of day care is available through our AVL kindergarten (limited spots). In collaboration with the works council, subsidized courses for all children up to 15 years are additionally offered during the summer.
Financial subsidies – There are special moments in life, like weddings or births, that are unforgettable. As a company, we are pleased to help you celebrate through congratulatory bonuses.
Culture and Health Fund – With a semi-annual subsidy, you can attend cultural events or participate in sporting activities.
AVL Cultural Foundation – The AVL Cultural Foundation provides employees with discounts for various cultural offerings and events. You can find more detailed information about the AVL Cultural Foundation here.
Employee Benefits – As an employee at AVL, you have access to a portal offering discounts from numerous providers and service providers.
Relocation allowance - If you need to relocate from abroad, we will provide a relocation allowance.
Start apartment - When you first relocate, we can support you with a temporary apartment for the first few months in your new country.
German-language courses - To support seamless communication, we offer German-language courses for you and your family.
Immigration support - If you relocate from another country, we will handle the immigration process for you, including obtaining a work permit and residence permit.
13th and 14th paycheck – We add two additional paychecks to your salary (one for Christmas and one as a holiday bonus). This means your monthly salary is paid out 14 times instead of 12 times a year.
Comprehensive insurance – Your employment at AVL includes statutory insurance coverage (pension, unemployment and health insurance).
Canteen - At the Graz site, there are currently two canteens where fresh food is prepared daily and four menus and a varied salad buffet are offered at reduced staff prices. As far as products are concerned, we focus on regional food and beverages from Austria (often from Styria) and the increased use of organic food.
Commuting allowance -  We support your journeys between home and work with either an 80% subsidy on public transportation costs or the provision of a personal parking space.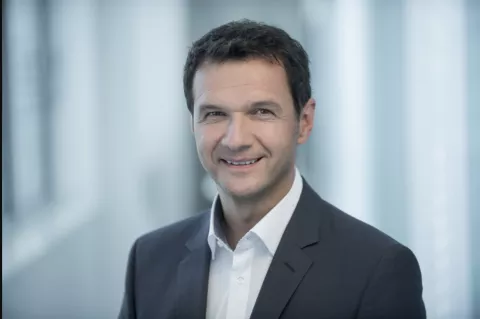 It's important for us to provide each team member with the opportunity to unleash their full potential and get the best out of themselves. Additionally, we place great emphasis on a good work-life balance, ensuring that our employees remain productive in the long term and feel comfortable.
– Markus Tomaschitz, Company Spokesperson and Chief Human Resources Officer 
Open Company Culture
At AVL, we highly value creativity, courage, curiosity, and pushing boundaries. We encourage our employees to think outside the box and be the driving force behind the new technologies that shape the future of mobility. By investing 11% of our annual revenue in R&D activities, we provide our employees with the opportunity to work on their own research projects independent of client orders.
Our open and inclusive culture encourages everyone to contribute their ideas and perspectives. For instance, in our "Rapid Innovation Teams," members from different disciplines come together for a limited period to drive high-focus innovation tasks. Moreover, through the AVL Improvement Process, employees can submit improvement suggestions at any time, which are then evaluated and appropriately rewarded upon successful implementation.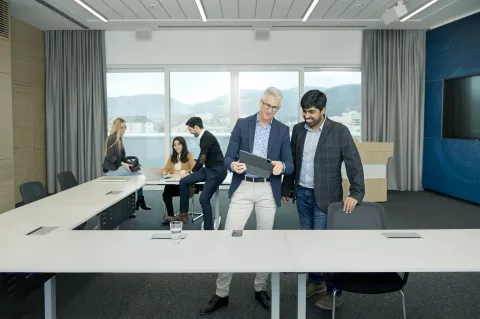 International Team of Experts
At AVL, some of the brightest minds worldwide work on the future of mobility. Get inspired by them, learn new ways of working and thinking, and contribute your ideas and expertise to our success. You can get to know some of your future team members here: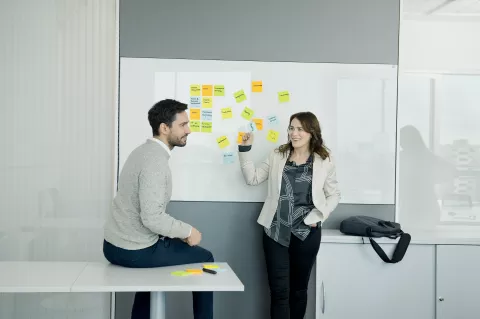 Exciting Fields of Interest
With us, you'll always work on cutting-edge topics and contribute to making mobility safer and more sustainable. The field of mobility is constantly evolving, offering many exciting challenges: From e-mobility to autonomous driving and software, we work closely with our clients and partners to develop innovative solutions. Discover the area that suits you best: