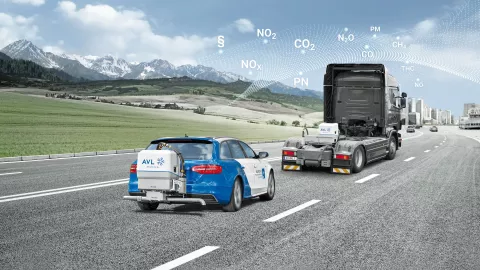 With global emission legislation and RDE requirements becoming stricter all the time, there is a growing need for a versatile, comprehensive PEMS (Portable Emission Measurement System) solution. OEMs need to react to a rapidly changing global legal framework and our M.O.V.E platform has become the industry standard to enable this agility.
The latest version of our market-leading Real Driving Emission testing solution, AVL M.O.V.E iS+, now caters for both light and heavy-duty vehicle testing. Designed to meet global testing standards, it is a single platform for every on-road application worldwide.
Global legislation and Real Driving Emissions (RDE) requirements are becoming stricter all the time, so automotive manufacturers need to be agile enough in their development process to accommodate these changes quickly if they want to operate on a global level. This makes keeping abreast of the changing legislative landscape and choosing the right supplier for testing solutions more important than ever.
WORLDWIDE INTRODUCTION OF RDE
As RDE has its focus on real driving situations in the addressed market, it is clear that there will be different requirements coming from different regions.
Light duty RDE testing focusses on nitrogen oxides (NOx) emissions and particle number (PN), while heavy-duty testing also includes limits for total hydrocarbons (THC) and methane (CH4), which are crucial for LPG or CNG Engines.
Needless to say that PEMS solutions need to be robust and scalable to cover all these aspects and also need to allow the smooth exchange of data between different testing environments to enable the most efficient RDE development process.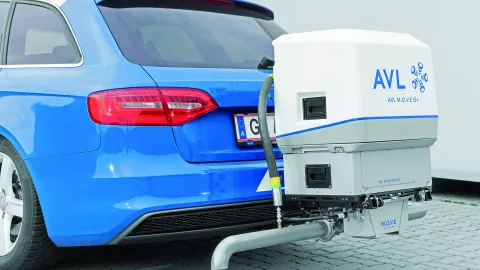 AVL M.O.V.E iS+ Redefines the Industry Standard
AVL M.O.V.E iS+ System has been designed to support all the different needs of global RDE regulations and applications, including passenger car and heavy-duty truck with a single versatile system.
An evolution of the M.O.V.E portfolio, it includes state-of-the-art central data management, gaseous emission and exhaust flow measurement, particulate counting and data post-processing. Supporting low-emission vehicle development with optional features such as fuel consumption measurement, energy balance for evaluation modern hybrids, and transient soot measurement for engine-out optimization, its versatile modularity enables it to be tailored to your specific needs.
M.O.V.E Systems      
Overview 
Gas PEMS iS+                                      
Measures NO/NO2, CO/CO2 and optional N2O concentrations
FID iS+
Measures THC and CH4 concentrations in the exhaust gas
PN PEMS iS / iS+
Measures Particle number emissions [#/cm³] of solid particles under real driving conditions
System Control

A robust and flexible platform for central device integration and data acquisition

M.O.V.E EFM

Installed on the tailpipe of the vehicle for accurate measurements at high pulsating and low
flow conditions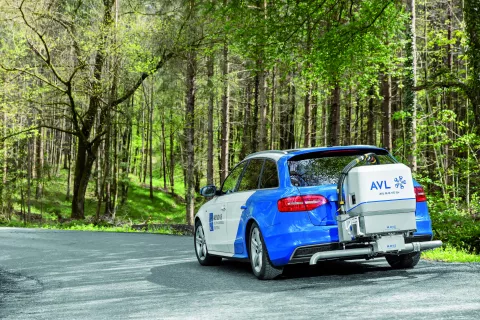 Ease of use, flexibility of installation, and robustness and reliability of results make this the preferred solution for both RDE certification and research and development. 
Ease of Use
Flexible mounting inside or outside the vehicle. Easy integration of different devices and test execution via a central control and data logging unit. Central power supply distribution solutions support different battery technologies. 
Flexibility of Installation 
All aspects of RDE testing are considered including workflow support from the test preparation, test execution, data evaluation and data management. 
Application-Focused Design
No influence on the vehicle under test. High accuracy and stability of the measurement results over changing ambient conditions. 
Safeguarding Investment
Reasonable modularity, extendibility, and completeness – global RDE regulations (Passenger Car and Heavy-Duty Truck) are supported. Future-proof features like N2O and CH4 measurement. 
Reliable Partner
AVL supports customers across the entire RDE workflow including engineering and testing services, test bed systems and portable measurement systems. 
AVL M.O.V.E GAS PEMS iS+
The GAS PEMS iS+ is designed to measure the NO/NO2, CO/CO2 and optional N2O concentrations within the exhaust gas of diesel and gasoline LDV on the road. For HDV applications the GAS PEMS HD (incl. THC) and GAS PEMS iX (incl. THC and CH4) are available. 
AVL M.O.V.E FID iS+
The AVL M.O.V.E FID iS+ is a PEMS for measuring the THC and CH4 concentrations in the exhaust gas of vehicles. It is especially optimized regarding robustness for in-vehicle application, easy operation and a flexible installation.
AVL M.O.V.E PN PEMS iS / iS+
The AVL M.O.V.E PN PEMS iS / iS+ ensures the highest reproducibility with minimal particle losses. The device continuously measures the particle number emissions [#/cm³] of solid particles under real driving conditions. 
AVL M.O.V.E SYSTEM CONTROL
AVL M.O.V.E System Control is a robust and flexible platform for central device integration and data acquisition. Automated device checks and legislative workflows are integrated in all AVL PEMS devices to ensure valid measurement results.
AVL M.O.V.E DATA TOOLBOX 2
The M.O.V.E Data Toolbox 2 is a powerful software add-on for AVL CONCERTO 5™, the AVL data post-processing platform. It supports different global "real world emission" regulations and applications. 
AVL M.O.V.E EFM
The AVL M.O.V.E EFM is based on the proven and robust "differential pressure" measurement principle. It consists of the EFM tube which is installed on the tailpipe of the vehicle and the EFM control box which includes the electronics and the pressure transducers.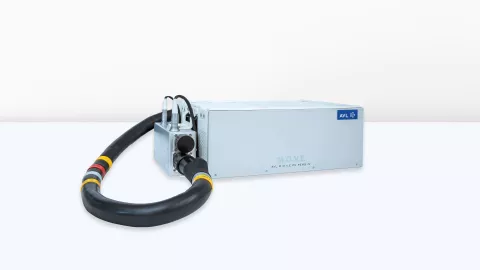 AVL M.O.V.E PN PEMS
The device is AVL's all-in-one solution for RDE/ISC requirements. It ensures precise and reproducible emission measurements under real driving conditions.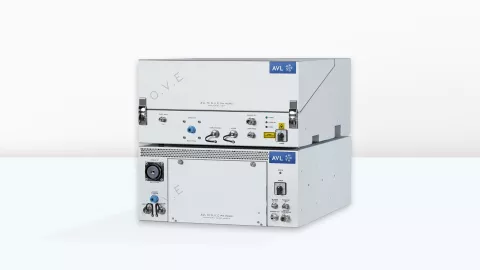 AVL M.O.V.E PM PEMS iX
Portable on-board soot and PM measurement device.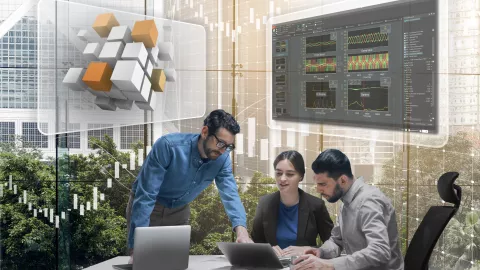 AVL CONCERTO 5™
With built-in and ready to use domain know-how, CONCERTO empowers data-driven engineers to become a strong development influencer.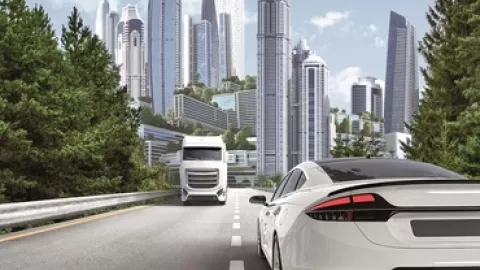 Insights and Interpretation Into the Latest EU7 Standards
On-demand
WEBINAR - The upcoming European vehicle emission standards Euro 7 publication by the European Commission will outline testing and certification updates which will need to be addressed when developing future propulsion solutions.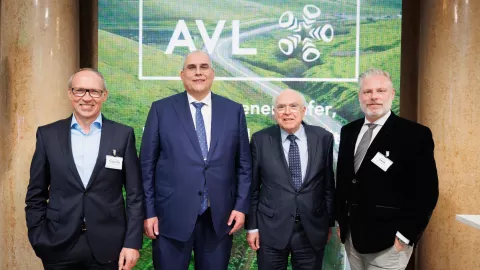 AVL at the 44th Vienna Motor Symposium
What kind of cars will we be driving in the future? These and other exciting questions around the topic of "Future Mobility" were addressed by more than 1,000 participants from 25 countries at the international 44th Vienna Motor Symposium. The tenor: Future automobiles will be CO2-neutral.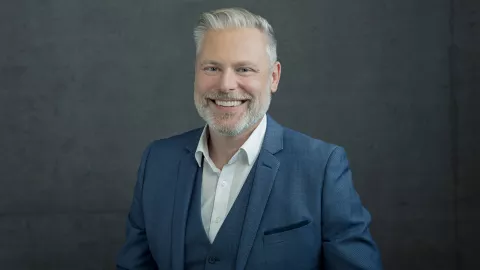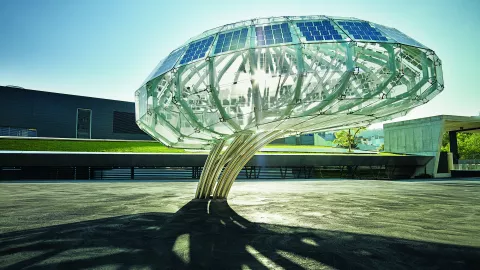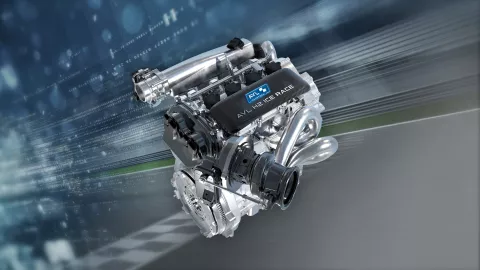 AVL RACETECH Builds Hydrogen Combustion Engine for Motorsport
AVL RACETECH, the motorsport department of AVL, presents the prototype of an innovative H2 internal combustion engine. The power unit is a compact, hydrogen-powered 2-liter turbo engine, with intelligent water injection, which achieves a totally new performance level. The first racing engine that AVL RACETECH is developing and building in-house.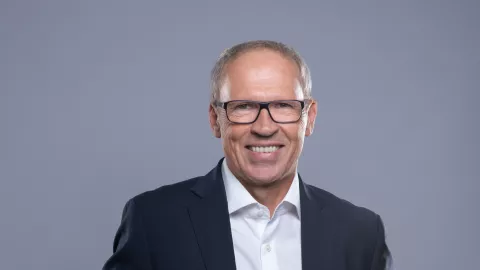 Gustav Tuschen Joins the Executive Board of AVL
AVL List GmbH has appointed Gustav Tuschen as new board member and Executive Vice President. The top manager with international experience was previously at Daimler Buses, where he was head of development. As of December 1, 2022, the 60-year-old is responsible for the corporate development and global alignment of AVL in the commercial vehicles sector.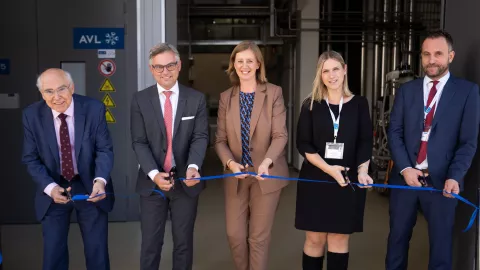 Do you have questions or want to work with us?
Our experts are happy to help.