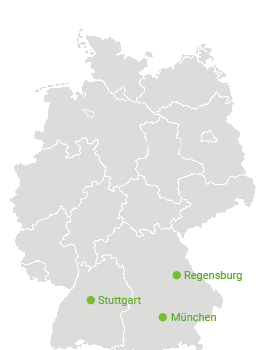 AVL Software and Functions GmbH
Hauptsitz Regensburg
Im Gewerbepark B29
Contact
E-Mail:
info.sfr@avl.com
Telefon
:
+ 49 (0)941 630 890
Fax
:
+ 49 (0)941 630 89 111
Portfolio
Steuerungen für Elektromobilität/ E-Antriebstechnik
Steuerungen für Verbrennungsmotoren
Sicherheitsentwicklung nach ISO 26262
Cyber-Sicherheit im Automobilbereich
ADAS und autonomes Fahren
Digitalisierung und Big-Data-Anwendungen
App- und Webtool-Entwicklung
Karosserie- und Fahrwerkssteuerungen
Fahrzeug- und Hybridsteuerungen
Elektronik und Leistungselektronik
EMV-Simulation
E-Maschinen-Entwicklung
Engineering-Prozesse, Methoden und Tools
Entwicklung nach AUTOSAR und SOTIF
Kurzbeschreibung des Standortes
Die AVL Software and Functions GmbH wurde im Juli 2008 gegründet und erlebt seitdem ein starkes Wachstum. Mittlerweile besteht das junge Unternehmen aus mehr als 600 Mitarbeitern, die insgesamt über 40 Länder repräsentieren. Der Fokus liegt auf technologisch führenden Software- und Systemlösungen für eine intelligente, ökologisch verträgliche Mobilität sowie Systemintegration und Elektronikentwicklung. AVL konstruiert und verbessert seit Jahren alle Arten von Antriebssystemen und verwirklicht neuartige Zukunftsvisionen.

Basierend auf unserem technologischen Know-how kooperieren wir mit unseren Kunden weltweit und entwickeln gemeinsam innovative und effiziente Lösungen. Im Zentrum stehen dabei autonome Fahrsysteme, kraftstoffeinsparende Themen, Digitalisierungsanwendungen, Leistungsoptimierung, Safety- und Security-Anwendungen sowie Schadstoffminimierung für klassische Antriebskonzepte und Effizienzsteigerung für E-Mobilitätsanwendungen. Während des Projekts und insbesondere bei der Inbetriebnahme der Software unterstützen wir unsere Kunden auch gerne Vor-Ort. Mit ihren Produkten und Dienstleistungen hat sich die AVL Software and Functions GmbH am Markt als anerkannter Ansprechpartner in den genannten Branchen etabliert.

Um die Zukunft von morgen zu gestalten, nutzen wir die Nähe zu Universitäten und Hochschulen und arbeiten neben zahlreichen eigenfinanzierten sehr innovativen Projekten auch eng mit deren verschiedenen Instituten zusammen.

​​​​​​​
Weitere Standorte
Niederlassung Leonberg
Niederlassung München
Niederlassung Roding
Niederlassung Unterschleißheim
Niederlassung Warschau (office)
Firmierung
AVL Software and Functions GmbH
AVL Software and Functions GmbH
AVL Software and Functions GmbH
AVL Software and Functions GmbH
Straße, Hausnummer
Bahnhofstraße 63
Frankfurter Ring 213
Schorndorfer Straße 91
Emmy-Noether-Ring 16
Okopowa Str. 58/72
PLZ, Ort
71229 Leonberg
80807 München
93426 Roding
85716 Unterschleißheim
01-042, Warszawa
Land
Deutschland
Deutschland
Deutschland
Deutschland
Polen
Telefon
+ 49 (0) 7152 5699 101
+ 49 (0)89 307 497 0
+ 49 (0)941 630 890
+ 49 (0)941 630 890
+ 48 (0) 781 706 968
Email
info.leonberg@avl.com
info.sfr@avl.com
info.sfr@avl.com
info.sfr@avl.com
info.sfr@avl.com