Products & Services
AVL FIRE™ Wins CFD Benchmark at major German Automotive OEM
After evaluating five CFD software products for 18 months, AVL FIRE™ will be used at BMW Group, one of the world's leading automotive OEMs, as a simulation tool in its engine development department.
---
Easy Model Set Up along with High Quality Results
As part of the evaluation the participating software vendors performed typical simulation tasks taking place during the development of Direct-Injection Spark Ignition engines. Following that the vendors had the opportunity to present their products on-site. Besides the quality of the achieved calculation results, the assessment also included the effort to set up a computational case and the availability of simulation models. Additional criteria were the involvement of each software provider in research projects, continuity in product development and maintenance and the opportunity to establish a successful long-term partnership with the supplier.
Maik Suffa, Product Manager of AVL FIRE™ states: "The result of the benchmark proves that AVL FIRE™ ranks among the best available solutions in the area of flow simulations for engines and that AVL is acknowledged as a reliable partner of the automotive industry."

More about AVL FIRE™
---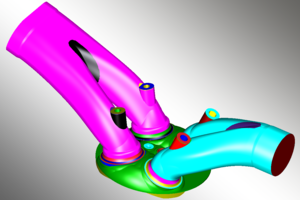 AVL FIRE™ - Effortless IC Engine Meshing
The integration of 3D CFD Simulation into modern engine development processes requires a dramatic reduction of model generation and execution times. Otherwise it would not be possible to investigate a large number of designs or to do automated design optimization. Both tasks are essential for further improving product quality and maturity, which is eventually also reflected in reduced fuel consumption, lower engine out emissions and increased life time.
AVL has now developed tools and methods which set new standards for IC Engine CFD model generation:
An "Engine selection finder" analyzes the input geometry, divides it into intake, exhaust and cylinder domain, detects components such as valves, valve seats, spark / glow plug, injection nozzle tip and determines the location of inlet, outlet, moving and solid wall boundary conditions. Then it assigns respective selections needed to create the computational mesh and to attribute initial and boundary conditions, – in merely seconds, compared to hours up to now.
Scripting of FAME

™

Engine Plus, the AVL FIRE

™

automated meshing solution for IC Engines, and connecting the tool to Microsoft EXCEL further improves the performance as well as the flexibility of the IC Engine pre-processing step. Adapting the meshing setup to a modified design now requires just a few mouse clicks.
Validating the approach by running a series of test cases, it never took longer than 2 hours from importing CAD data to start of meshing.
If you want to find out more about this exciting method, please download the PDF-file.
---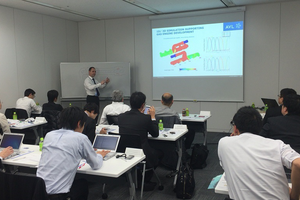 Duel Fuel Seminar in Osaka, Japan
AVL BOOST™ and AVL FIRE™ – cutting-edge simulation tools supporting the development of next generation gas and dual fuel engines.
Japanese engine developers joined AVL's seminar in Osaka, Japan, mid of January 2016 to discuss how simulation can be used to efficiently support the development of gas and dual fuel engines. The agenda covered the full range of the application spectrum: from passenger car to large engines, from spark ignited stoichiometric combustion concepts to lean burn diesel ignited gas engines and dual fuel engines with and without HPDI technology.
---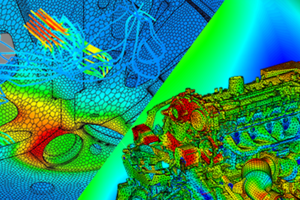 Altair and AVL collaborate on Altair online software portal
AVL EXCITE™ Acoustics and AVL FIRE™ M have been added to the APA (Altair Partner Alliance) Online Software Portal. Altair's HyperWorks platform applies a subscription-based licensing model in which customers use floating licenses to access a broad suite of Altair-developed and third-party software applications on demand. The APA enables access to a broad spectrum of complementary software products using existing HyperWorks Units at no additional cost.
"Our tools offer valuable capabilities that complement very well what Altair is supplying to their customers. We are convinced bringing these products together will help our mutual users achieve better solutions more efficiently," says Gotthard Rainer, Vice President AVL Advanced Simulation Technologies.
More about...
---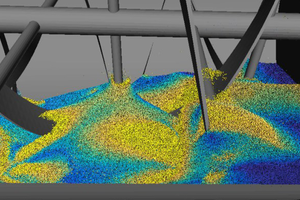 XPS® - eXtended Particle Simulation: New Software for the Particle Processing Industry
With the contract signing between the companies RCPE, AVL and CATRA in late 2015, the distribution of the new particle simulation software XPS® has started. Combined with the 3D CFD software AVL FIRE™ exciting applications open up, which are of particular interest for the chemical and process industry.
This integrated numerical simulation software perfectly combines the unique product specifications of the GPU-based DEM solver XPS®, developed by RCPE, and the multiphase CFD solver of AVL FIRE™, developed by AVL. XPS® is thus able to predict not only the behavior of several millions of solid particles, but also their interaction with surrounding fluid flow in arbitrary complex geometries.
Here are some of the advantages of the new coupled software:
Being able to predict and understand fluid-granular flow, which is necessary for many industries, e.g. pharmaceutical, cosmetics, food, oil&gas, plastics, bulk solids or minerals.
Faster product and process development because simulation is faster, safer and cheaper than experiments
The computational expense for large amounts of particles (up to 80 Mio.) is low, thanks to the GPU-based massive parallel architecture.
"By coupling AVL FIRE™ and XPS® the application fields of both products significantly expand. This results in the ability to satisfy existing customers even better and simultaneously expand into new markets", says Maik Suffa, Product Manager for AVL FIRE™.
More detailed technical information can be found here. Exemplary videos of some industrial applications can be seen here.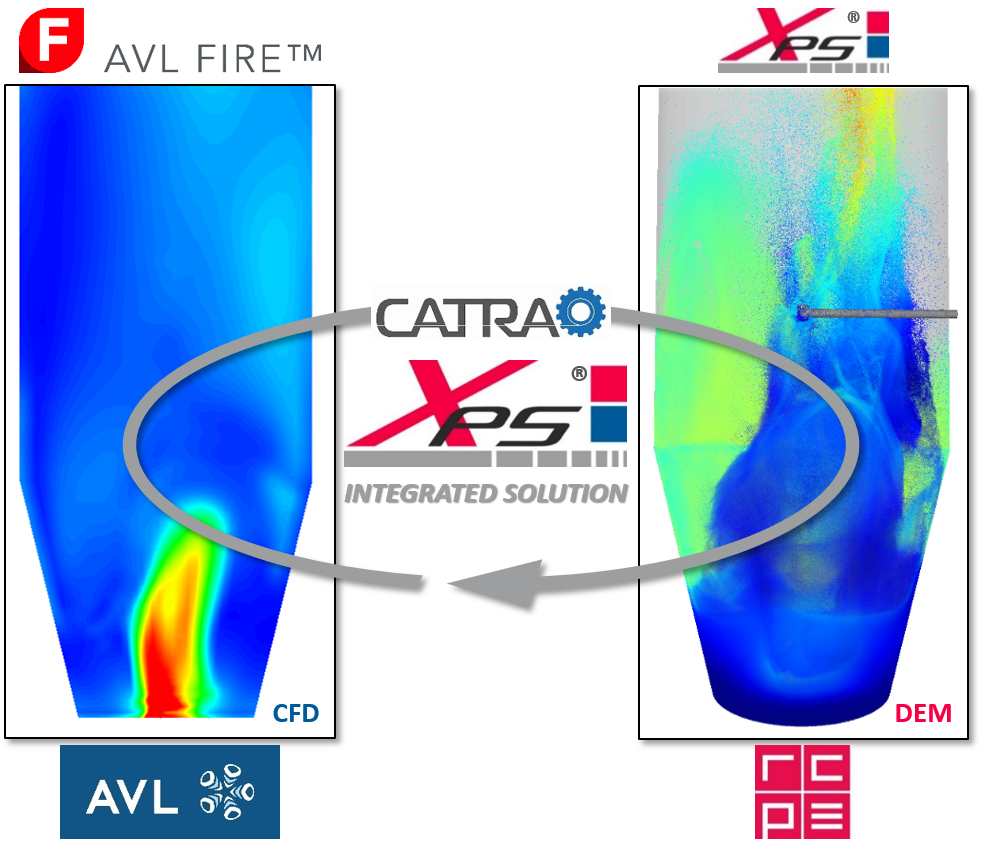 ---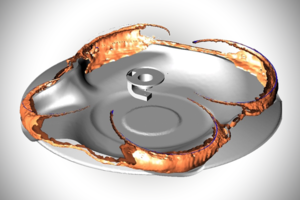 Great success for AVL FIRE™ in JSAE Benchmark
The Japanese Society of Automotive Engineering (JSAE) benchmarked all major CFD codes offering models for internal combustion engine simulation. AVL FIRE™ was successful in both categories, gasoline and Diesel engine. While the newly developed Flame Tracking and Particle Method impressed GDI Engine developers through its knock calculation capabilities, Diesel enthusiasts applauded the excellent agreement between measured and predicted soot/NOx trade-off.
---
ABSTRACT: Diesel Engine Emissions Prediction and Gasoline Engine Knocking Estimation by CFD Method
Gregor KOTNIK, AVL-AST d.o.o., Slovenia
In this work an engineering approach in the field of internal combustion engine (ICE) simulations focused on reliable emissions prediction for diesel engines and efficient knock onset estimation for gasoline engines, is presented. Whole scope of investigations is thereby divided into two parts, gasoline and diesel. For the first, investigations were performed for a (full model) PFI gasoline (VVT) engine for high load operating points at 3 different engine speeds (n=1200, 2400 and 4800RPM). Scavenging flow simulation was not considered here, appropriate quantity fields (given as a result from a foreign CFD code) of mixture state and composition at the point of IVC were read-in and mapped on corresponding calculation mesh. Hence the simulation duration was from IVC till EVO for all 3 operating points. The focus here was to establish a fast but still reliable engineering method for (mean) knock onset prediction, hereby avoiding (long-lasting) multiple-cycle knocking combustion simulations. Combustion process was calculated with the Flame Tracking Particle Model (FTPM), a numerical algorithm to simulate the kinetics of the premixed and partially premixed flame represented by a surface. In order to predict the knocking trend in a comprehensive manner, a spark timing variation for each operating point was carried out. Calculated mean cylinder pressure traces are compared to available experimental data and show satisfactory accuracy, additionally predicted knocking probability and resulting knocking trends according to shifted spark ignition timing are presented.
For the second part, CFD simulations were carried out for two HSDI engines (first with simplified and second with realistic piston bowl layout). Both engines were set with (almost) identical geometrical (compression ratio, bore, stroke) and fuel injection setup and were both considered at same engine speed at 2000RPM and two different operating points (low vs. high charge/injection pressure/EGR). Additionally, an EGR ratio sweep (3 points) was performed for both operating conditions. Fuel injection was defined with nozzle flow data at the injector orifice for both operating conditions, Lagrangian spray primary and secondary break-up models were applied. Detailed chemistry approach was used for calculation of chemical kinetics (NO reactions included) in combination with an empirical emission model for Soot modelling. Diesel simulations were carried out practically without any model parameter tuning, resulting predicted cylinder pressure traces and emissions (Soot/NOx) showed good agreement with available experimental data.
The full article as well as the articles provided by the other participants of the JSAE CFD Benchmark 2016 can be obtained through the website of the Japanese Society of Automotive Engineering.
More about AVL FIRE™
---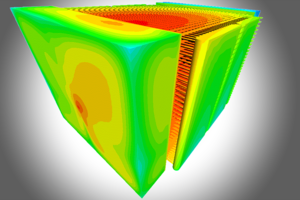 AVL FIRE™ Multiphysics Simulation of Solid Oxide Fuel Cells and Electrolyzers
The optimization of Solid Oxide Fuel Cells (SOFC) and Solid Oxide Electrolyzers (SOE) with respect to efficiency and lifetime is a major development focus to paving the way for successful market introduction and usage of SOFCs and SOEs in the context of future energy systems. AVL offers tailored solutions to meet your specific needs.
---
Dedicated Multiphysics 3D-CFD Simulation
AVL FIRE™ v2016 offers dedicated multiphysics 3D-CFD simulation capabilities to support the SOFC and SOE original equipment manufacturers and supply industry as well as the academic and non-academic research community in analyzing and optimizing the complex fluid-dynamic, thermal and electrochemical processes in the individual SOFC/SOE single cell and stack configurations.
By providing a detailed space and time resolved insight into the complex multiphysics processes in SOFC/SOE cells and stacks, AVL FIRE™ helps to optimize transient start-up and steady state operation with respect to media utilization, temperature and reaction current homogeneity, performance degradation/lifetime aspects etc.
Temperature (°C) distribution in the middle interconnect and simulated vs. measured electric power (W)
output and temperature (°C) in different monitoring locations of a Solid Oxide Fuel Cell
Fig. 2 H2 and O2 mole fraction in the middle cathode and
anode reaction layers in a Solid Oxide Electrolyzer
More about Simulation for Fuel Cells
---
AVL at the 12th European Fuel Cell Forum SOFC & SOE Forum, Luzern/Switzerland, 5-8 July 2016
Solid Oxide Fuel Cell APUs for Transport Applications (A0502)
Jürgen Rechberger, Michael Reissig, Jörg Mathe, Bernd Reiter
AVL List GmbH, Graz/Austria
Proof of concept for solid oxide electrolysis systems (A1304)
Richard Schauperl, Beppino Defner, Dominik Dunst, Jürgen Rechberger
AVL List GmbH, Graz/Austria
Recent Results of the Christian Doppler Laboratory for Interfaces in Metal-Supported Electrochemical Energy Converters (B0901)
Martin Bram (1,2), Marco Brandner (3), Jürgen Rechberger (4), Alexander Opitz (1,5)
(1) Christian Doppler Laboratory for Interfaces in Metal-Supported Electrochemical Energy Converters, Jülich/Germany,
(2) Forschungszentrum Jülich GmbH, Institute of Energy and Climate Research (IEK), Jülich/Germany,
(3) Plansee SE, Innovation Services, Reutte/Austria,
(4) AVL List GmbH, Graz/Austria,
(5) Institute of Chemical Technologies and Analytics, Technical University Vienna, Vienna/Austria
Development of robust metal supported SOFCs and stack components in EU-METSAPP consortium (B0903)
B.R. Sudireddy (1), J. Nielsen (1), Å. H. Persson (1), K. Thydén (1), K. Brodersen (1), S. Ramousse (1), D. Neagu (2), E. Stefan (2), J.T.S. Irvine (2), H. Geisler(3), A. Weber (3), G. Reiss (4), R. Schauperl (5), J. Rechberger (5), J. Froitzheim (6), R. Sachitanand (6), H. F. Windisch (6), J. E. Svensson (6), M. W. Lundberg (7), R. Berger (7), J. Westlinder (7), S. Hornauer (8), T. Kiefer (8)
(1) Department of Energy Conversion and Storage, Technical University of Denmark, Roskilde/Denmark,
(2) School of Chemistry, University of St Andrews, St Andrews/Scotland/UK,
(3) Institut für Werkstoffe der Elektrotechnik (IWE), Karlsruhe Institute of Technology (KIT), Karlsruhe/Germany,
(4) ICE Strömungsforschung GmbH, Leoben/Austria,
(5) AVL List GmbH, Graz/Austria,
(6) Department of Chemistry and Chemical Engineering, Chalmers University of Technology, Gothenburg/Sweden,
(7) AB Sandvik Materials Technology, Sandviken/Sweden,
(8) ElringKlinger AG, Dettingen/Germany
---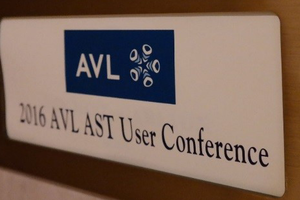 13th AVL Korea AST User Conference
The 13th AVL Korea AST User Conference took place at Ritz-Carlton Seoul on June 21, 2016. Around 100 participants from 26 different companies and institutions including small, mid and large size road and marine vehicle OEMs to heavy industry, suppliers and universities gathered to discuss and solve current industry challenges and hear AVL's strategy of simulation software development, AVL experts' presentations and users' case studies.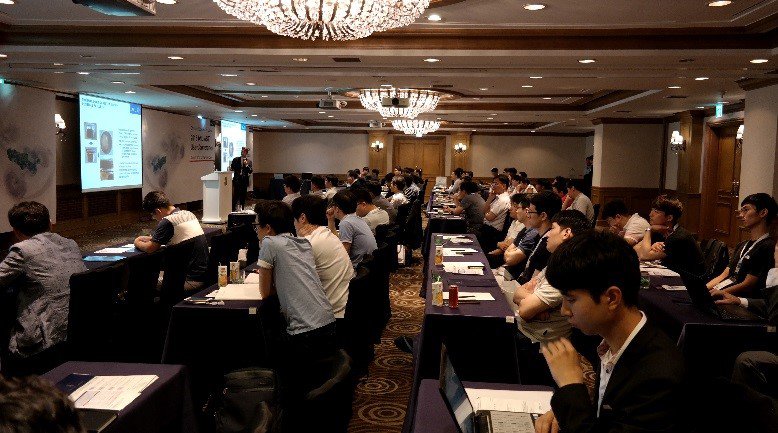 ---
COME.
Starting with the opening address of DongHee Kim, the new managing director of AVL Korea, the conference continued with a revealing keynote on simulation trends by AVL's Vice President AST Gotthard Rainer.
Current simulation developments in the automotive markets of Germany and Japan were presented by AVL Germany's Moritz Frobenius and Mihoko Fukumoto from AVL Japan. Oliver Knaus, Skill Team Leader for Software Services gave an informative lecture about the thermal analysis of piston assembly.
---
EXPERIENCE.
At three exhibition booths, participants experienced demonstrations of AVL's new simulation technologies, including AVL FIRE™ M, AVL EXCITE™ Acoustics and Model.CONNECT™, the new product of the AVL Integrated and Open Development Platform.
Exhibition Booth for Demonstration
---
SOLVE.
Simulation experts heard about current industry developments and innovations from all over the world. In addition, they seized the opportunity to meet with AVL experts one-on-one to discuss specific questions.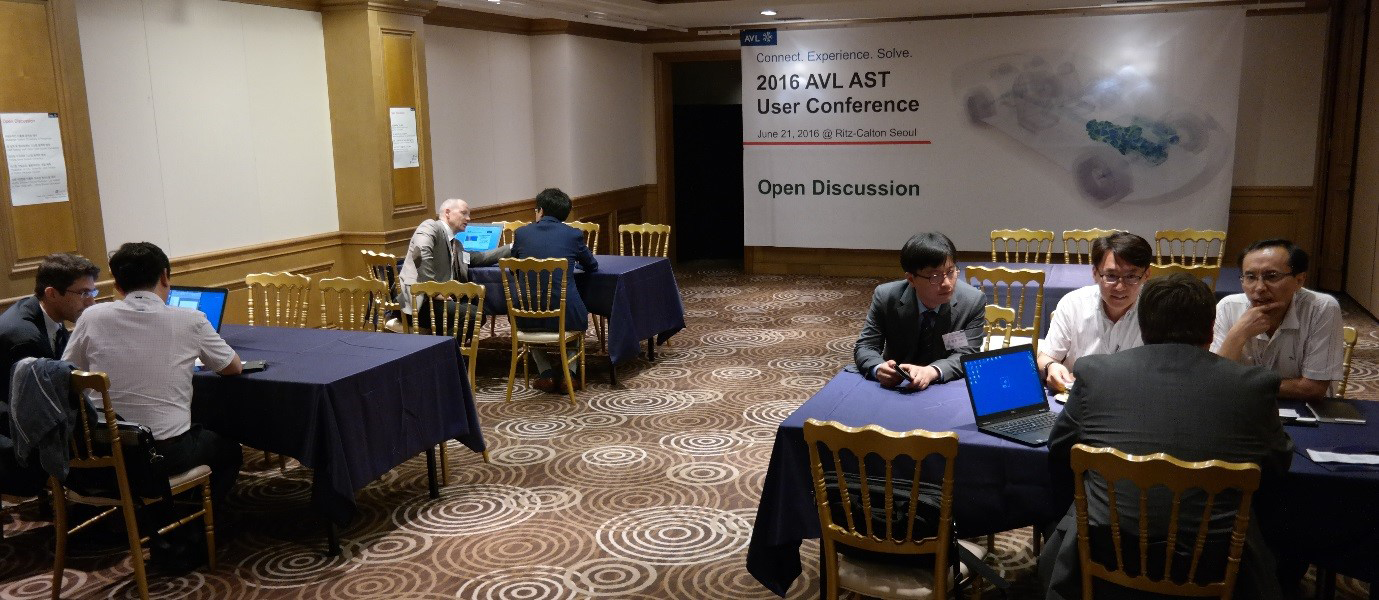 Open Discussion Corner
---