Welcome to Graz
A city with mediterranean atmosphere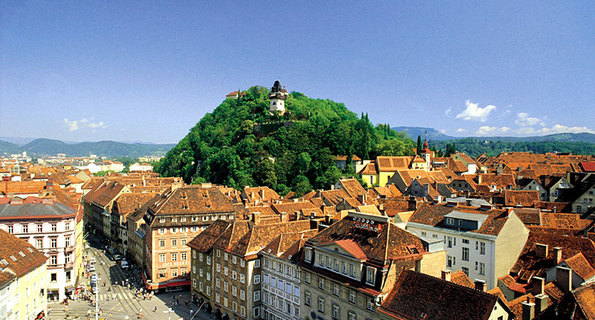 ---
Graz
Graz isn't a place to be marched through in double-quick time. The historical heart of the city is simply too attractive for that. And furthermore you'll always find a spot where you can flop down and take in the marvellous surroundings.
Much has already been written about the special southern flair of the city; many people appreciate its 'italianitá' – and possibly overlook the fact that Graz has drawn on a wide range of influences to become a quite unique place. For centuries the city has been soaking up external influences like a sponge. Numerous Italian Renaissance architects were imported especially to this end and gave the city its face; you can still admire their accomplishments today in 'Central Europe's best preserved city centre'- which was declared a world heritage site by UNESCO.
In Austria, Graz and its surrounding areas are considered the land of milk and honey for the rest of the nation: the fantastic white wines, unique pumpkin seed oil, delicious cured meats and exquisite Schnapps form the perfect basis for a culture of top class cuisine that pays heed to the regional and nonchalantly integrates the international.
---