{attributes={}, name=downloadList, data=, type=selection_break, options=[], optionsMap={}, mainTitle={attributes={language-id=en_US}, name=mainTitle, data=Discover more, type=text, options=[], optionsMap={}}, sectionList={attributes={}, name=sectionList, data=, type=selection_break, options=[], optionsMap={}, sectionIcon={attributes={language-id=en_US}, name=sectionIcon, data=newsletter, type=list, options=[], optionsMap={newsletter=Newsletter, download=Download, software=Software, white-paper=White Paper, webinar=Webinar}}, sectionName={attributes={language-id=en_US}, name=sectionName, data=Contact us, type=text, options=[], optionsMap={}}, downloadFiles={attributes={}, name=downloadFiles, data=, type=selection_break, options=[], optionsMap={}, LinkTitle={attributes={language-id=en_US}, name=LinkTitle, data=Get in touch with our experts, type=text, options=[], optionsMap={}}, CTALink={attributes={language-id=en_US}, name=CTALink, data=https://www.avl.com/registration-cta?articleId=17982641&groupId=10138, type=text, options=[], optionsMap={}}, DownloadFile={attributes={language-id=en_US}, name=DownloadFile, data=, type=document_library, options=[], optionsMap={}}}}}
false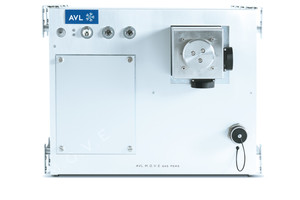 Accuracy on the road
AVL M.O.V.E GAS PEMS Portable Exhaust Gas Analyzer
A robust and reliable solution to mobile vehicle emission measurement
Global emission legislation is becoming increasingly stringent, and it is vital that OEMs can measure exhaust gas emissions in both transient and static scenarios. That's why we have designed the AVL M.O.V.E GAS PEMS Portable Exhaust Gas Analyzer to be vehicle mounted – including trucks and off-road vehicles. The system allows us to accurately measure the THC, NO/NO2, CO/CO2 and O2 concentrations in gasoline and diesel exhaust gas while on the move.

A New Approach to Portable Emission Analysis

Featuring a robust design, high accuracy and a wide operating temperature range, our portable emission measurement system raises the bar for devices of this kind. At its heart is the central data logger, the AVL M.O.V.E System Control. This calculates online mass emissions and provides interface data and sensors such as ECU/CAN data.

With all analyzers mounted on vibration dampers the system is incredibly reliable. External damping options such as a mounting frame and a rugged case which is mandatory for testing non-road machinery are also available, further increasing resilience.

Additional benefits include:
Internal conditioning allows accurate, low-drift operation in ambient conditions ranging from -30°C to +45°C
External cooling device and heating circuit further extend safe operating limits, and offer protection during start up in low temperatures
Hibernate mode maintains internal temperature overnight, minimizing warm-up time in the morning
Timer function allows automated start-up at freely
User-Centric Design

Our vehicle emission measurement system is designed with the user in mind. A service door makes access to consumables such as filters very easy, and optimized components extend service intervals and reduce maintenance effort.

Different test data is stored in a single data file. Data processing and reporting is conducted in compliance with standards such as U.S HDIUT regulations, using our software package AVL CONCERTO™. This process simplifies data management, reducing complexity and making the complete system much easier to use.
A Simple Solution to a Complex Challenge

This AVL Gas PEMS system uses a heated Flame Ionization Detector (FID) analyzer to measure THC concentrations. This does not require an external air supply and can use cleaned ambient air as burner air. You do not need to use any further operating gas, other than the He/H2 mix burner gas.

For NOx emissions we use a UV analyzer to conduct NO/NO2 measurement. This can measure both NO and NO2 simultaneously without the need of a converter.

We use an NDIR analyzer for CO/CO2 measurement. This is specially optimized for high accuracy and resolution of the CO channel at low concentrations.

The design of our gas emission analysis system ensures that all of the unit's analyzers are mounted in temperature-controlled enclosures. This guarantees stable conditions and high accuracy even in changing ambient conditions.
---