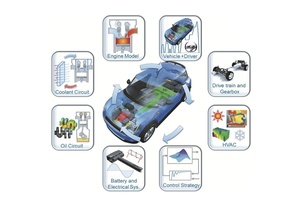 Micro Hybrid, Mild Hybrid, and Full Hybrid Electric Vehicle Powertrain Systems
Hybrid Vehicle Powertrain System
Hybrid Vehicle Powertrain Systems combine conventional powertrain components, an internal combustion engine and transmission, with new electric components, electric motor, power electronics and high voltage energy storage, such as a battery. AVL's development of a Hybrid Powertrain System efficiently combines our expertise of the different single components with our capabilities to integrate these components into a system optimized to meet CO2/fuel consumption reduction targets.
---
AVL Approach
AVL's design approach is the traditional systems engineering requirements flow down with analysis and simulation at the foundation. Efficient component, powertrain, and vehicle testing to confirm targets complete the approach. The center of all vehicle engineering work is optimization of systems at the vehicle level. Achievement of the following vehicle targets drives all tasks: fuel economy, emissions, costs, performance, and driveablility.
The engineering tasks consist of the following:
Market analysis
Hybrid vehicle benchmark analysis (including controls system)
Vehicle attribute simulation
Hybrid System simulation (thermal, mechanical, controls)
Hybrid controls system development (including software)
Hybrid Mechanical System Design (integrated clutch and e-motor)
Electrical and Electronic system integration
Electric Drive Component Requirements Engineering
Electric Drive Component Supplier technical management
Hybrid demonstrator vehicles (powertrain system design, vehicle build, calibration, and fuel economy test)
Calibration of Hybrid systems
Testing of Hybrid systems (cold, hot, altitude, NVH, endurance, EMC, etc..)
---
AVL Solution
AVL's Electrified Powertrain Engineering products include the design, development, and validation of the following hybrid vehicle powertrain systems
12Volt Micro Hybrid/Start-Stop Powertrain System
48Volt Mild Hybrids with Integrated Starter Generator (ISG) and Belt Starter Generator (BSG) Technologies
Mild Hybrid Powertrain System
Full Hybrid Powertrain System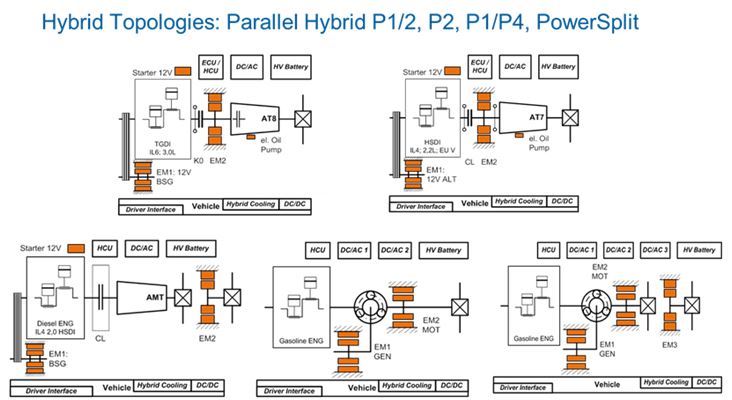 Services include a full portfolio of hybrid analysis, simulation, development, and testing offerings to meet the needs of vehicle manufacturers and component suppliers.
---
Benefits at a Glance
AVL is an independent engineering services company with no high volume production intentions. Our long-term expertise in the field of powertrain development and excellent relationship to most automotive suppliers enable AVL to be an ideal partner for the development of advanced powertrain propulsion systems. The experienced team has developed powertrain solutions for OEMs that range from powertrain concept design (including demonstration vehicle builds) through series production. Additionally, internal research projects guarantee a head start in the field of new and advanced technologies. Results are innovative solutions for the end customer.
Recognized expertise in the five elements of powertrain: internal combustion engines, transmissions, batteries, software/controls, and electric motors
Expertise in Electrified Powertrain Systems that combines powertrain components into and integrated electrified system optimized to meet zero emissions and CO2E/Fuel Consumption reduction targets
Global AVL. The AVL worldwide network of technical centers and affiliates are strategically placed to meet your global and regional engineering needs
With over 60 years of powertrain experience, AVL offers custom and robust electrified powertrain solutions
Full service Electrified Powertrain Solutions that are created with Advanced Simulation Technologies and Instrumentation and Test Systems
---
Market Requirements
Today's Vehicle market requirements for more fuel efficient vehicles are driving all automotive companies to search for cost effective innovative solutions. fuel consumption reduction requirements differ around the world, but, the common requirement is less. This has created a more urgent need for avl to partner with vehicle manufacturers and suppliers to provide these solutions. it is very much aligned with avl's mission to deliver innovative electrified powertrain solutions to the market leveraging our core expertise in the system optimization of the internal combustion engine, transmission, battery, controls, and electric motor technology.
---