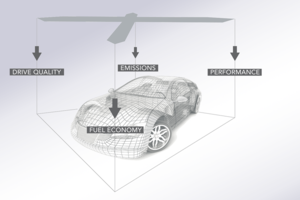 ---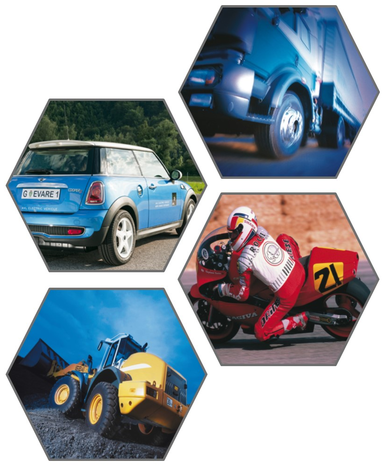 The Challenge
Vehicle System Simulation
Can simulation provide a reliable and accurate fuel economy prediction of my vehicle concept?
How can I find the optimum balance between fuel economy, emissions, performance and drive quality?
Transmission and Driveline Simulation
Is there a tool that supports me in designing my transmission and optimizing the shifting strategy?
Can I generate realistic component load data for durability analysis and component testing?
Electrification and Hybridization
Which is the optimum hybridization concept for my current conventional vehicle?
Can I get a complete overview about energy flow and distribution in my powertrain?
How can I obtain a fast and robust hybrid and electric vehicle plant model for control function development?
---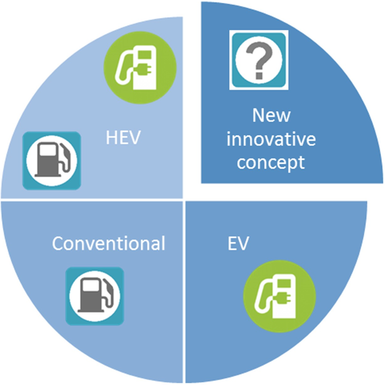 The AVL Solution
The powertrain system simulation package AVL CRUISE™ has been developed to meet the following requirements:
Accuracy – validated for over 20 years with AVL and OEMs test data.
Speed – enhanced by a proprietary numeric solver and capable of real time applications in all environments (HiL, testbed, etc.)
Openness – standardized interfaces for third party plug-ins (MatLab/Simulink, FMI, etc.)
AVL CRUISE™ supports everyday tasks in vehicle system and driveline analysis from the concept phase to control function development and testing. Its modular and open structure enables applications for different architectures (conventional, hybrid, electric) and engineering focuses (transmission, engine, electric system, controls, etc.) in all relevant industries (passenger, commercial, 2-wheeler, off road, etc.).
---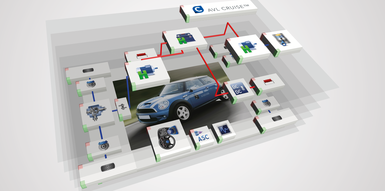 The Added Value
Fast and reliable fuel economy and performance predictions from early concept phase
Easy-to-use, modular, extendable
Changing powertrain architecture variants with one click
Driveline optimization through large scale parameter and component DOE studies
Built-in, ready to use component and vehicle model library
Worldwide support network, global AVL expertise
---
References
Aptera, T. Reichenbach
The Role of Simulation in the Development of the Aptera 2e
Plymouth, AVL User Conference 2010
Aptera, R. Farbini
Developing the Aptera 2e xPrize Contender using AVL CRUISE
Plymouth, AVL User Conference 2010
Beijing Foton Cummins, Y. Hu
Heavy-duty Commercial Vehicle Driving Cycle Fuel Consumption Simulation Based CRUISE Software
Guilin, AVL User Conference 2013
BMW, M. Farag
Li-Ion Battery SOC Estimation Using Non-Linear Estimation Strategies Based On Equivalent Circuit Models
SAE Paper, 2014
Bosch, D. Lavric
Simulation of Load Collective Measurements at Bosch
Graz, AVL User Conference 2011
Changan, J. Yu
Application of AVL-CRUISE in the CVT and Engine Matching
Guilin, AVL User Conference 2013
China Engine, D. Zhu
A Study of Friction Reduction Effects on Fuel Economy
Guilin, AVL User Conference 2013
Chery, L. Min
The Design and Simulation Study of Intelligent 4WD Control System based on CRUISE
Guilin, AVL User Conference 2013
Chery, Y. He
The Analysis of Vehicle System Integrated with Air Condition
Jinan, AVL User Conference 2012
Chery, Z. Yi
Optimization of Gear Transmission Ratio based on CRUISE and Optimus Co-simulation
Kunming, AVL User Conference 2011
Chery, Y. Hu
The Analysis of a Plug-in Parallel Hybrid Electric Vehicle based on CRUISE and SIMULINK Co-simulation
Kunming, AVL User Conference 2011
Chery, Y. Han
The Analysis of a Plug-in Series Hybrid Electric Vehicle based on CRUISE and SIMULINK Co-simulation
Kunming, AVL User Conference 2011
CNH, G. Magra
Use of AVL CRUISE Simulation Tool as Virtual Test Bed for Deriving Energy Consumption Function for Different LCV Vehicle Type (Diesel, EV, PHEV)
Graz, AVL User Conference 2015
DAF, B. Lipsch
Implementation of AVL Cruise at DAF Trucks N.V
Graz, AVL User Conference 2013
DAF, M. J. A. Taken
Implementing AVL CRUISE in the DAF Trucks Development Chain
Graz, AVL User Conference 2015
Dongfeng, Z. Cai
The Application of Simulation Technology in Lowering Engine Fuel Consumption
Guilin, AVL User Conference 2013
Dongfeng, Z. Cai
Creation of VTMS Model of a Passenger Vehicle and its Application
Graz, AVL User Conference 2015
Dongfeng Commercial, Z. Mingkai
Application of Combined Simulation Method with AVL-CRUISE and Matlab
Chongqing City, AVL User Conference 2014
Dongfeng Commercial, L. Xin
The Optimum Matching Technology on Vehicle with DCT
Chongqing City, AVL User Conference 2014
Dongfeng Commercial, X. Ding
Application AVL-CRUISE Software in Economy Improvement of a Commercial Vehicle
Guilin, AVL User Conference 2013
Dongfeng Commercial, Z. Ying
The Study of Vehicle Energy Management and Control Strategy based on CRUISE
Jinan, AVL User Conference 2012
Dongfeng Commercial, X. Xu
AVL CRUISE Application in DFMC
Kunming, AVL User Conference 2011
Energy Power Systems, G. Burgh
Grid Power Management using AVL CRUISE
Plymouth, AVL User Conference 2014
FAW, J. Liu
Based on the CRUISE Vehicle Speed Ratio Optimization Simulation Analysis Software
Chongqing City, AVL User Conference 2014
FAW, H. Zhao
Research on Torque Distribution Control of 4WD Electric Vehicle with Four in-wheel Motors for Higher Fuel Economy
Chongqing City, AVL User Conference 2014
FAW, Y. Wang
Powertrain Parameters Design and Vehicle Performance Simulation of Battery Electric Vehicles based on CRUISE
Guilin, AVL User Conference 2013
FAW, L. Zhang
The Generation and Analysis of Gear Shifting Strategy for Automatic Transmission Vehicles based on CRUISE GSP
Kunming, AVL User Conference 2011
Fiat Chrysler, E. Penazzi
Friction Clutch Thermal and Performance Analysis on 1D Vehicle Simulation Platform
Graz, AVL User Conference 2015
Ford, R. Ahmed
Lithium-Ion Battery Models Characterization for SOC Estimation Based on the Smooth Variable Structure Filter
Graz, AVL User Conference 2013
FZI, A. Viehl
Driving and Operating Strategies for Improved Energy Efficiency of Electric Vehicles
Augsburg, AVL User Conference 2014
FZI, J. Zimmermann
Simulation based Optimization of Recuperation and Energy Management for Electric Vehicles
Heidelberg, AVL User Conference 2015
Geely, N. He
Study in Effect of Vehicle Start-stop Technology Based on CRUISE Simulation
Guilin, AVL User Conference 2013
Geely, H. Na
The Vehicle Economy Simulation and Parameter Sensitivity Analysis
Jinan, AVL User Conference 2012
Great Wall, Y. Liu
Based on the Cruise for Checking and Analysis of Vehicle Dynamic and Vehicle Economy
Chongqing City, AVL User Conference 2014
Great Wall, J. Wang
The Economy and Performance Study of a Type of Vehicle based on CRUISE
Jinan, AVL User Conference 2012
Great Wall, Y. Kang
The Reduction of Fuel Consumption of a Vehicle based on CRUISE
Kunming, AVL User Conference 2011
Honda, H. Okubo
Validation of CRUISE as Model-Based-Development Plant Model
Tokyo, AVL User Conference 2014
Hyundai, S. Yun
Design Optimization of Alternator and Battery Systems with a Recuperation Control Algorithm for a Mid-Sized Sedan
SAE Paper, 2015
Hyundai, D. Kim
Fuel Economy Analysis and Durability Improvement Using CRUISE
Seoul, AVL User Conference 2014
Hyundai, D. Sung
Torque Converter Performance Improvement
Seoul, AVL User Conference 2010
JAC, Z. Han
The NOX Emission Optimization of a Certain Engine based On CRUISE
Guilin, AVL User Conference 2013
JAC, Z. He
The Classical Application of CRUISE in the Development of a New Type Manual Car
Jinan, AVL User Conference 2012
JAC, Z. He
The Simulation and Analysis of Strat/Stop based on CRUISE
Kunming, AVL User Conference 2011
JAC, Z. He
The NOx Emission Simulation of a Diesel Vehicle based on CRUISE
Kunming, AVL User Conference 2011
JRC, P. Dilara
Vehicle Simulation Software for Legislative Purposes
Graz, AVL User Conference 2011
Mahindra, S. Kandavelu
Analysis of Conventional and Hybrid Vehicle Dynamics Using Co-Simulation of AVL CRUISE and Carmaker in ETAS RT Environment
Graz, AVL User Conference 2013
Mahindra, N. Nagarajan
Virtual Vehicle Simulation and Validation of E/E Architecture with AVL Advanced Simulation Tools & HiL technology
Graz, AVL User Conference 2013
Mahindra, N. Pandey
Modeling of Engine Stop Start Plant Model for Virtual Testing of Hybrid Electric Vehicle
Graz, AVL User Conference 2013
Mahindra, S. Gupta
Creation of Benchmark Vehicle Fuel Economy and Acceleration Performance Simulations High Accuracy Model and Using the Same for Concept Vehicle Simulations
Graz, AVL User Conference 2013
Mahindra, S. Gupta
Fuel Economy and Acceleration Performance Predictions and Understanding of Recuperation Logics of a Parallel Mild Hybrid Vehicle
Graz, AVL User Conference 2011
Mahindra, S. Jadhav
Optimization of Dynamic Torque Delivery of a Common Rail Diesel Powertrain Vehicle with the Help of
AVL CRUISE Simulation Tool
Graz, AVL User Conference 2011
MAN, A. Soares
The Use of Simulation for Choosing the Best Automated Manual Transmission: MAN Case Study
SAE Paper, 2013
Maruti Suzuki, P. Arora
Use of Software Tools to Evaluate Passenger Cars on Upcoming WLTC
Graz, AVL User Conference 2013
Maruti Suzuki, P. Arora
Innovative Simulation Approach to Analyze and Add Value to Upcoming Complex Drive Cycle (WLTC) for Passenger Cars
SAE Paper, 2013
Michelin, C. Bradley
Valorization of Tire Rolling Resistance
Graz, AVL User Conference 2011
Michelin, M. Asai
Tire and Vehicle Interaction Using "Physical Tire": TameTire
Tokyo, AVL User Conference 2010
Nissan, J. Jooyong
Plant Model Building Activities in India
Graz, AVL User Conference 2013
Pan Asia, H. Ding
Model Development and Validation based on Carbon Balance Method for Hybrid Vehicle
Chongqing City, AVL User Conference 2014
Pan Asia, Y. Chen
Hybrid Vehicle Parameter Matching and Fuel Economy Study Based on AVL CRUISE
Chongqing City, AVL User Conference 2014
Pan Asia, Y. Chen
Simulation and DOE study on Vehicle Fuel Economy based on CRUISE
Guilin, AVL User Conference 2013
PATAC, M. Pei
The Powertrain Selection and Vehicle Performance Study based on CRUISE
Kunming, AVL User Conference 2011
Porsche, F. Walz
Variable-Structure Decentralized Powertrain Control of Simulated Conventional and Hybrid Driving Strategies
Graz, AVL User Conference 2015
Porsche, I. Zaiser
Modular Modeling Approach to the Simulation of Driving Performance and Fuel Consumption at Porsche
Augsburg, AVL User Conference 2014
Porsche, D. Blanke
Pre- and Post-Processing for the Simulation of Driving Performance and Fuel Consumption at Porsche
Heidelberg, AVL User Conference 2012
Porsche, A. Klick
Optimizing Fuel Effeciency for the Porsche Panamera S Hybrid with AVL CRUISE
Graz, AVL User Conference 2011
PTT, K. Wannatong
Development of Hardware in the Loop System Implemented for Engine Control Unit End of Line Test
SAE Paper, 2014
Qoros, R. Wang
The Simulation and Analysis of Control Strategy for a Rang Extended Electric Vehicle
Jinan, AVL User Conference 2012
Renault, D. Le Guen
Definition of Gearshift Pattern: Innovative Optimization Procedures Using System Simulation
SAE Paper, 2011
SAIC, W. Zhou
The Fuel Economy Development and Optimization of Vehicle Smart Charging system
Chongqing City, AVL User Conference 2014
SAIC, X. Zhu
Fuel Economy Simulation of Vehicle with E-cooling System during Cold Start Cycle
Guilin, AVL User Conference 2013
SAIC, Q. Wang
Start/Stop System Simulation and Analysis based on CRUISE
Guilin, AVL User Conference 2013
SAIC, L. Li
The Influence of Ambient Temperature on the Driving Range of Electric Vehicles
Jinan, AVL User Conference 2012
SAIC R&D Center, F. Jiang
The Prediction Method for Vehicle Fuel Consumption at the Early Period of Engine Development
Jinan, AVL User Conference 2012
Tata, Y. Patil
Optimization of Powertrain Performance and Fuel Economy Improvement in City Driving Condition
Graz, AVL User Conference 2013
Tata, D. Wale
Powertrain Matching for Optimum Performance and Fuel Economy
Graz, AVL User Conference 2011
TUEV, C. Mathies
The End of the Driving Cycle? - The New "In-use" Emission Legislation and its Consequences on the Continuous Development Process
Heidelberg, AVL User Conference 2012
Volvo, E. Jonsson Holm
Complete Vehicle Modeling and Simulation of a Long Haul Truck with Electrified Auxiliaries in the CONVENIENT Project
Graz, AVL User Conference 2015
---