Our Vision of CO₂ Neutrality Across Our Global Operations Starts With Our Austrian Headquarters
At AVL, we not only take it very seriously to achieve climate-neutral mobility together with our partners and customers - we are also strongly committed to continuously reducing our own environmental impact as a global company with the ambitious aim to reach CO₂ neutrality - starting with our headquarters in Graz, Austria.
Achieving climate neutrality at AVL is not a single task: A variety of activities is necessary to sustainably optimize, improve and monitor our CO₂ footprint and several initiatives have been implemented over time, for example:
AVL headquarters has been certified according to ISO 14001 since 2002 and work on the certification of our locations worldwide is ongoing since. AVL has also been part of the ECOPROFIT® initiative of the city of Graz for decades.
AVL launched the "CO₂ Neutrality" project in 2020 together with denkstatt &  enertec GmbH​​​ to address energy consumption and CO₂ emissions at AVL's headquarter.
At our headquarters in Graz, we use 100% renewable electricity.
AVL headquarters owns a heating and cooling system, fed by a company owned solar thermal plant, saving 320 tons of CO₂ every year. It was built in collaboration with SOLID Solar Energy Systems and nahwaerme.at  Energiecontracting GmbH. Learn more about one of Europe's largest process cooling systems here.
A waste heat recovery infrastructure is installed at our site in Graz which supplies our internal heating system.
As a CFE (Cycle-friendly Employer) certified company, we encourage our employees to bicycle to work.
The use of public transport is subsidized.
More than half of our internal carpool are either electric or hybrid powered vehicles – charged on-site using company-produced renewable electricity and off-site through the 100% renewable Shell Recharge network.
To be able to get an overview of the energy consumption and greenhouse gas emissions of AVL globally, an Energy Monitoring Tool has been developed in-house. This serves as the basis for setting the most efficient measures to achieve our environmental targets.
But our work is not yet done; in order to minimize our GHG emissions, further measures are already in the pipeline.
"We owe it to the planet"
Together we move towards our vision of carbon neutrality at our head office and across our global business –
"Creating a more sustainable world for future generations".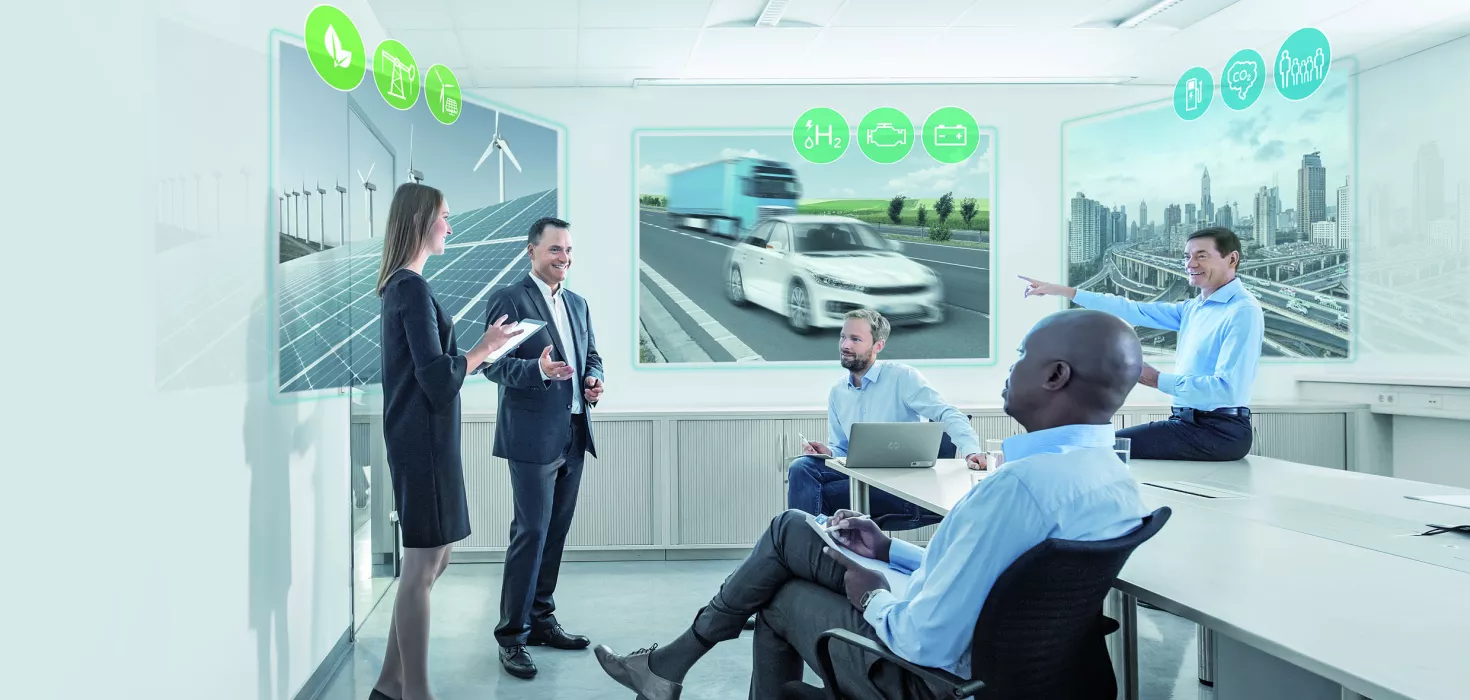 Energy and Sustainability
The sustainable treatment of resources and the ambitious targets for reducing greenhouse gas emissions in the transport sector will have a drastic impact on the required electrification and the powertrain mix of the future. Together with the rise of renewable energy carriers, it creates a wealth of different future development options and scenarios. We support customers in planning the proper energy pathway. With sustainable design and development, we reduce the CO₂ footprint of the powertrain in all lifecycle stages while considering affordability for the end consumer.
Synthetic and biofuels have the potential to influence this scenario. We use a variety of scenario calculations to find out how the legal requirements regarding CO₂ can be achieved and help you choose the right powertrain concept at the right cost.
Get more information about AVL Energy Consulting here.