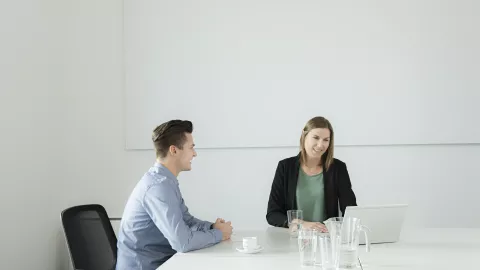 You want to work at AVL, but you are not sure how to apply? We have put together a guide that explains our application process step by step.
Check out our open positions posted in our online job portal. After the decision of a suitable position click on the "Apply" button. If you do not find a specific position, you are welcome to apply here on a speculative basis.

To begin, you need to register on our online job portal.

All fields marked with an asterisk need to be filled in to continue with the application process. Once you have completed the mandatory fields, you can upload your CV and your cover letter.

Once your application has been submitted, it will be reviewed by our recruiting department. While we aim to respond as quickly as possible, this may take a while due to the large number of applications we receive.

If you are a good fit for the position, your application will be forwarded to the relevant technical department.

Upon receiving feedback from the relevant head of department, we will contact you to arrange an initial interview. These interviews take place either remotely (over the phone) or face-to-face, depending on the circumstances.

Another interview will then take place between you and a member of the relevant technical department, as well as with someone from our recruitment team. The application process may require more than one interview.

Once the interview process is complete, and we think you are a fitting candidate for the role,  we will contact you to make an offer.

In an ideal case, both parties accept the offer, and we can welcome you to the team.