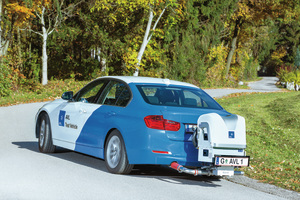 Testing Focus
Real Driving Emissions (RDE)
The upcoming EU6d Emission Regulation will implement Real Driving Emissions as an additional type approval requirement within the
2017 - 2020 timeframe.
The Real Driving Emissions (RDE) legislation is adding the road as a new environment for emission testing and certification. Compared to current test environments, which are designed and optimized for perfect reproducibility and a removal of external influences, driving a vehicle on the road under "real-life" conditions will never be 100% reproducible. The influence of the road profile, the ambient conditions and the traffic situation as well as the behavior of the driver will significantly influence the results. One-to-one comparison of test results will not be possible; instead it is necessary to handle and evaluate the test data using statistical methods. The RDE legislation will require engines to be clean under all operating conditions. This will impose significant challenges on the design and the calibration of engines. Here RDE can become a door opener for alternative technologies as well as for alternative development processes.
Go to All Solutions
---