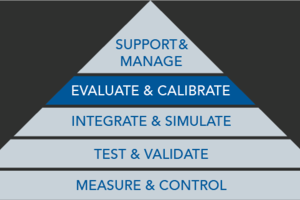 Efficient Model Based Development
Evaluate & Calibrate
The automotive industry is facing the major challenge of having to develop and secure a growing number of variants with increasing complexity within shorter and shorter periods of time. At its core, the issue is all about achieving increased agility, efficiency and robustness in the development process. Crucial to addressing this challenge are consistent, model-based testing methods and tools, to which the processes, development environments and collaboration models need to be adapted.
Todas las soluciones
---
El enfoque AVL
AVL optimally supports their customers during their development process and assists in their efforts to analyze, set up and optimize their processes and provide support from the integration of the testing environment to the effective roll-out. AVL offers automated model-based calibration, delivers sophisticated methodologies in practical tools, enables to deliver real-world improvements of calibration quality and supports to increase the development efficiency. Moreover AVL can provide intelligent data evaluation to empower performance enhancement.
---
Ventajas
Software tools to support development engineers during the entire calibration workflow
Full utilization of the test facility due to intelligent test runs – even in unmanned 24-hour operation
Transparent calibration process monitoring
Focus on calibration tasks instead of the development of calibration tools
Unique objective & subjective rating systems for robust evaluation processes
Open integration into automation, calibration and data management tool chains
---