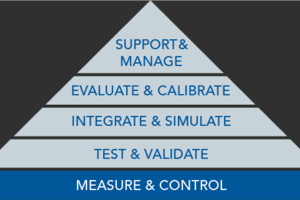 Get Your Problem Solved
Measure & Control
When looking into your application and measurement problem, independent if it is the measurement of fuel, the conditioning of some media like water or air or the fulfillment of legislative norms like the measurement of some limited emission gas components, then a reliable and proven test solution is a must.
Todas las soluciones
---
El enfoque AVL
It is AVL's mission to offer both innovative and proven test solutions. AVL's very large customer base and the AVL in-house know how drives AVL to provide the best in class solutions. This means not only features and functions but also reliable interfaces, to the human operator and to the automation system, same look&feel, same behavior, e.g. in communicated warning messages.
---
Ventajas
Strong application orientation based on the long term experience as market leader
Scalable solutions matching exactly your specific needs
Consistent test equipment throughout the complete measurement chain from sensor up to high end data acquisition system
Wide portfolio for covering all application needs and for different units under tests, from conventional internal combustion engines up to batteries
Compatibility for optimal integration of equipment in a testing environment and for the easy upgradeability to the newest versions and functions
---