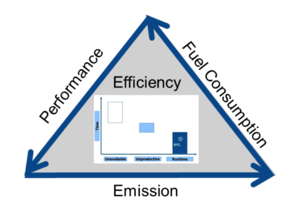 Testing Focus
Performance, Emission & Efficiency
Performance, emission and fuel consumption are base development targets causing dedicated demands on development solutions for powertrains and vehicles applying combustion engines. Regardless in which testing environment the development activities need to be supported with powerful and smart tools and solutions also challenging the today expected excellence in efficiency.
Toutes les Solutions
---
---
L'approche AVL
Regardless in which testing environment users are carrying out their in complexity continuously growing development work, the tools and systems need to apply testing methods and processes, data management and evaluations consistently.
The AVL test bed automation software PUMA OpenTM, the calibration tool CAMEOTM, the simulation platform ARTETM, the data post processing tool CONCERTO and many further members of the AVL Software SUITETM in combination with the available AVL combustion analysis and measurement technologies do support the typical testing environments in the verification / validation phase as
Chassis Dynamometer test tig
Powertrain test rig
Engine test rig
Virtual test rig
---
Aperçu des avantages
Proven testing solutions, 24/7 in use at AVLs world-wide technical centers
Consideration of most advanced development methodologies based on AVL`s powertrain engineering know-how
Support of front-loading and model-based engineering approach

Effective and efficient solutions
---