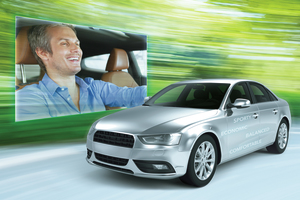 Exceptional driving with eco-power.
AVL VEHICLE ENGINEERING
AVL vehicle engineering provides affordable measures for CO2 and fuel consumption improvement with vehicle attributes emphasizing the positive driving experience of end-customers. AVL offers services for the right choice of technical measures from powertrain to the complete vehicle deciding the balance between cost and interacting driving attributes.
---
---
AVL Approach
The choice of CO2 and efficiency measures from the powertrain to the vehicle is all about deciding on the right balance between cost and positive driving attributes.
The AVL Global Vehicle Benchmarking Program provides an extensive database for comparison with market competitors.
The established development & assessment tool AVL-DRIVE™ has been extended and measures a broad range of end-customer relevant driving attributes. In combination with our comprehensive simulation tools we offer a holistic approach to solve trade-offs between vehicle efficiency and interacting driving attributes in the early development phases.
Our development support is based on our established core competences in powertrains and complemented by an energetic view across the entire vehicle covering all fuel consumption relevant aspects of current and future vehicles.
---
AVL Solution
Pre-Concept Studies
Base vehicle measurement and analysis including comparison with competitor vehicles utilizing AVL-DRIVE™ and AVL Global Vehicle Benchmarking database
CO2 and fuel consumption potential analysis from the engine and powertrain system up to the complete vehicle with evaluation of feasible technical measures

CO2 Improvement Package with Driving Attributes Engineering
Balanced vehicle driving attributes are developed and detailed lists of technical measures that fulfill targets for improved CO2 emissions, fuel consumption, cost, performance, driveability, handling, ride comfort, sound/NVH and real driving emissions are provided
Concept development on software and/or hardware basis including the monitoring of how targets are being met in order to support the overall vehicle concept

AVL Strengths
Profound knowledge of engine and powertrain systems combined with high expertise across

energetic interrelations at the entire vehicle level

Comprehensive in-house tools for simulation and objectified vehicle assessment with a wide range of vehicle instrumentation and testing capabilities

---
Benefits at a Glance
Better solutions for fuel efficiency improvements and achievable quality levels of end-consumer relevant driving attributes
Continuous tracing of the achievement of targets along development steps, leading to high quality products and time-efficient development progress
---
Market Requirements
Market Drivers
Stringent legislation for fleet average CO2 emissions and fuel consumption worldwide
End-consumer expectations regarding improved fuel economy

Challenges for vehicle manufacturers
Progressive and regionally differing CO2 limits need significant efficiency optimization of all vehicle systems including the complete vehicle
Increasing number of vehicle variants with a higher diversification of propulsion systems and fuels
Trade-offs between affordable vehicle efficiency measures and positive driving experience to achieve high-end consumer acceptance

---