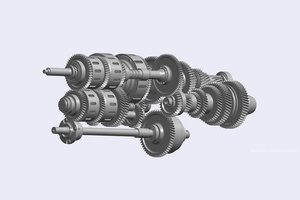 AVL Transmission Solutions
AVL provides fully integrated systems built on the basis of AVL's overall expertise in all key components. Well-known manufacturers trust in AVL's individual, independent and highly innovative transmission solutions. Efficient testing and simulation tools, combined with extensive engineering experience and skills drive our advanced solutions.
All Solutions
---
AVL Approach
The AVL team has successfully completed a substantial number of transmission projects. The experience gained through these projects and the knowledge of the AVL R&D projects result in safety for the customer and are also the basis for permanent innovation.
As an independent company, we are competent, quick and flexible project partners.
Concept evaluation with the latest simulation tools
Design oriented towards the whole powertrain
Simulation environment in time and parallel to the first prototype
Most important transmission technologies: synchronized gear box, powershift transmission
Automatized transmission (w/ and w/o synchronization), automatic transmission, double clutch transmission, CVT (continuous variable transmission)
Use of AVL-specific transmission development tools
Functional development, testing, debugging and calibration on HIL, SIL and further on prototype
Calibration of clutch control, shift strategy and shift scheduling, diagnostic systems and driver interface
Hybridization
Vehicle testing (CET, HET, Altitude testing, NVH, endurance and durability, city cycles)
Support for production industrialization
---
Benefits at a Glance
One-stop-shop partner safes time to market
Local support from concept over the prototype phases to SOP in a global engineering network
Interface reduction throughout transmission development based on AVL's total system capability in all key components
Most innovative and independent solutions applicable for different markets
High testing and validation experience
Latest simulation tools and highly flexible testing environment
---
References
Transmission family for passenger car : MT, AMT and DCT
6-speed dual clutch transmission
DCT for motorcycle application
AMT for motorcycle with diesel engine
Function development and adaptation application for a 7 speed AT
Synchronized transmissions for commercial vehicles and tractors
Concept DCT for tractor
Powershift transmission for tractor
CVT (hydrostatic-mechanic) for tractors
AT Review
Conversion of MT to AMT
DCT design
Conversion of a 5 speed MT to a 5 speed AMT
6-speed AT, 7-speed DCT, 6-speed clutch adaptation for DCT transmission
---