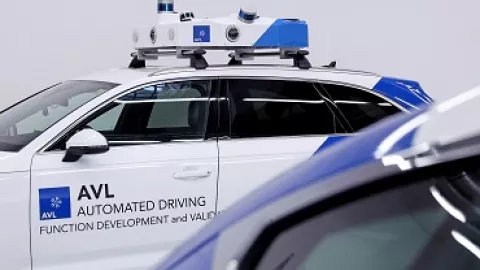 An efficient approach to real-world ADAS/AD validation
One of the key elements on the path to homologation of ADAS/AD vehicles is the independent evaluation of the vehicles' sensor System Under Test (SUT) with a reliable and stable ground truth reference system.AVL has developed a highly precise one-box solution for recording real-world data to support this evaluation requirement. The test system delivers a 360° Field of View (FoV) of the vehicle's surrounding environment. For ingesting, managing and analyzing the tremendous amounts of recorded data a Big Data platform is used. This analytics platform simplifies the ADAS/AD validation process and supports validation engineers in their daily work.Gain insights into an efficient approach to real-world ADAS/AD validation in our free webinar on Friday, March 26, 11 am.Within this webinar you will learn more on the features and advantages of our dynamic ground truth measurement solution and KPIs of AVL's ADAS/AD validation toolchain:
• Major use-cases real-world recording and validation
• Detailed hardware description
• In-vehicle E/E architecture
• Software architecture offline perception
• ADAS/AD Big Data & Analytics Platform
Meet our experts who are the presenters of this webinar.
Gerald Binder, Armin Engstle