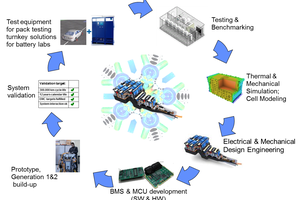 Electrifying the future
Battery Solutions
As an independent market leader in battery technology, AVL offers a full package of innovative tailored solutions to address the challenge of clean e-mobility. Our dedicated products and services cover the entire battery development process – from the assessment and selection of a single cell to SOP of a fully validated battery pack.

Mechanical and thermal pack integration into the vehicle feature with low cost design, performance, serviceability, energy efficiency and recyclability. Our offering also includes:

A blend of reliability and quality with reduced development times and costs
High quality battery management software, tested and verified by experts
Efficient and effective testing, including test-plan optimization
A library of test cases for validation and verification

Testing and Benchmarking
Our highly instrumented cell and battery testbeds enable the testing and benchmarking of everything from high power, high energy cells to complete battery packs up to 500kW.

Thermal and Mechanical Simulation
The parameterization of dedicated electro-thermal models and thorough mechanical analysis, which includes strength and crash testing, obtains the battery's best performance.

Battery Design Engineering
All aspects of mechanical and electrical integration are managed by AVL's experts to ensure that the battery design meets volume production requirements.

Battery Prototype Build
Prototypes of any sample state, from single units to several tens of A and/or B samples, can be built-to-order during or after design engineering.

Battery Management System (BMS) Development
Our proprietary battery management system assures the safe operation of the battery pack according to ISO 26262, while maximizing battery performance by, for example, providing very accurate SOX values.

Battery System Validation
Lifetime and warranty targets are assessed by battery experts using a dedicated methodology in the areas of reliability, durability, and validation.

Battery Testing and Emulation
We deliver advanced battery testing tools and emulation solutions, in the form of AVL E-Storage Tester™ and Emulator™. Entire battery lab turnkey solutions are also available.
---
---