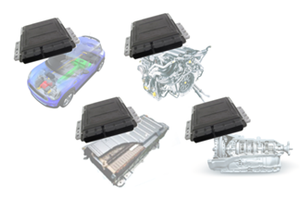 Develop and Tune Vehicle Intelligence
Controls and Electronics
Today's vehicles and machinery receive their embedded intelligence by implementing electronic control units. The most known one is the Engine Control Unit ECO or also known as Engine Management System EMS. However there is almost no part inside the vehicle which is not linked to a control unit or has its own control unit. Examples are transmission, engine, battery, driving dynamics, hybrid operating strategy – just to name a few.
Todas las soluciones
---
El enfoque AVL
AVL has built a large competence not only in developing universal control units and functions software. AVL also has focused on creating tools and systems necessary to teach those control units.
Calibration of the ECU using an virtual engine
Calibration of vehicle dynamics with virtual vehicle
---
Ventajas
Powerful Software for Simulation of Vehicle and Powertrain
Open Integration of Driving Maneuver Simulation
Full Integration of Calibration Tool Chains like CAMEO
---