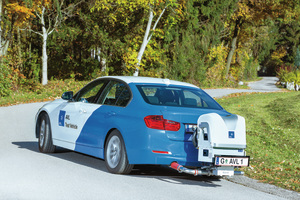 Testing Focus
Real Driving Emissions (RDE)
The upcoming EU6d Emission Regulation will implement Real Driving Emissions as an additional type approval requirement within the
2017 - 2020 timeframe.
The Real Driving Emissions (RDE) legislation is adding the road as a new environment for emission testing and certification. Compared to current test environments, which are designed and optimized for perfect reproducibility and a removal of external influences, driving a vehicle on the road under "real-life" conditions will never be 100% reproducible. The influence of the road profile, the ambient conditions and the traffic situation as well as the behavior of the driver will significantly influence the results. One-to-one comparison of test results will not be possible; instead it is necessary to handle and evaluate the test data using statistical methods. The RDE legislation will require engines to be clean under all operating conditions. This will impose significant challenges on the design and the calibration of engines. Here RDE can become a door opener for alternative technologies as well as for alternative development processes.
All Solutions
---
---
AVL Approach
RDE imposes new challenges and complexity on today's approach for the development of vehicles and engines. There is certainly no silver bullet to battle the ever-increasing complexity but AVL's complete solution portfolio makes the difference. AVL can support any development project for RDE at all levels:
Instruments and Devices
As the market leader in various fields, AVL is committed to providing best in class performance, certified compliance with the legislations and simple integration into test systems.
Test Systems
AVL covers the full range of test environments, from first ideas in the office to the open road. Consistent operation across all test environments is ensured. AVL M.O.V.E iS is a tailored testing solution for a RDE on-road application.
Process Support
AVL software supports test operation, calibration, model based development & data management through the entire development process.
---
Benefits at a Glance
The AVL M.O.V.E iS System is a complete and tailored solution for Real Driving Emissions testing of passenger cars. It has been designed to support manufacturer's needs.
Complete
Seamless tool chain - from the installation on the vehicle, test execution and data evaluation up to data exchange between different development stages.
Integrated
Device control, data recording and data visualization via a central control unit. Workflows support efficient execution and evaluation of the test.
Safe
To avoid having toxic exhaust gases in the vehicle, the system has been designed for not only inside installation but particularly for installation outside the vehicle, e.g. on the tow bar. No dangerous carry-on gas bottles are needed.
Quick and Easy
The pre-installed system can be quickly and easily mounted on a standard tow bar within less than 5 minutes.
Application focused design
Influences on the vehicle are eliminated thanks to the lightweight, compact & aerodynamic design of the system, which does not require any modifications on the vehicle. The system supports operation with or without exhaust flow meter.
---