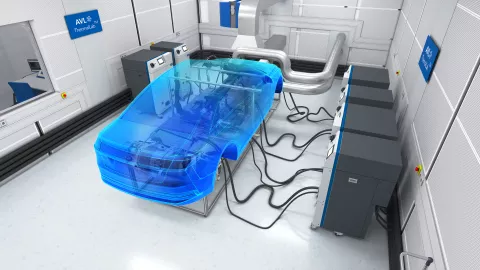 With the increasing electrification of mobility, the development of vehicle thermal management systems (VTMS) is becoming more and more important. This is because the allowable temperature ranges for different components in an electrified powertrain system can vary widely depending on operating and environmental conditions. Therefore, an efficient vehicle thermal management system ensures passenger comfort, driving range, and the safety and durability of all powertrain components such as battery, electric motor, fuel cell, etc. This increases the complexity of the thermal system design and the importance of an optimized VTMS.
An effective VTMS plays a critical role in optimizing the energy efficiency of the entire vehicle and extending the lifespan of its powertrain components. However, developing highly efficient systems requires extensive calibration and testing, which can significantly increase development costs and time. To address this challenge, we introduce the AVL ThermalLab™, which offers the flexibility to test either the complete VTMS or individual components of the thermal system. This innovative solution helps streamline the development process and enhance efficiency while reducing costs.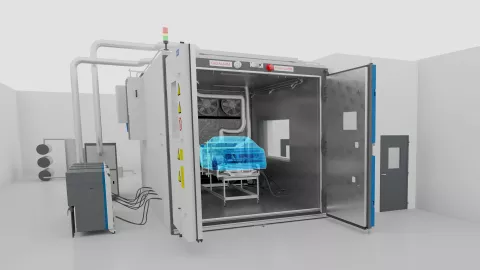 Specifications
Our testing methodology is based on highly dynamic conditioning systems, and the entire thermal management system can be tested on the rig under real emulated driving and environmental conditions, independent of vehicle prototypes and weather.
System and Subsystem Testing
Using model-based testing, AVL ThermalLab™ supports you optimize the entire VTMS under dynamic conditions. The UUT is the complete VTMS, including powertrain coolant circuits, the heating, ventilation and air conditioning (HVAC), and thermal management control units. It is embedded in an emulated vehicle while the environment is fully simulated. Unlike costly vehicle testing in wind tunnels or on the road, you can test the entire system in the lab under realistic driving and environmental conditions, without vehicle prototypes and outside weather conditions.
Component Testing
As with the complete thermal system, the model-based testing approach of the AVL ThermalLab™ helps you optimize your thermal components without having the entire VTMS available. Your UUT can be embedded in an emulated vehicle, while a hardware-in-the-loop (HiL) method fully simulates the rest of the thermal system and the environment. This is then optimized in various driving cycles to ensure proper functionality of all subsystems and to pre-calibrate your actuators on the rig.
Testing Scope

Description

Fill and degas coolant circuits

Fill refrigerant cycles, incl.

oil concentration

Test performance of the entire VTMS

Optimize VTMS control strategy

Optimize cabin comfort

Develop deicing strategy for refrigerant front heat exchangers

Evaluate energy consumption and its influence on driving range

UUT is placed in the test plant in the same geometrical position as in the vehicle

Suitable for different VTMS and powertrain architectures for all battery electrical passenger vehicles

Evaluation of ambient conditions from –25 to +55 °C and different driving cycles or vehicle speed up to maximum driving speed
Modular Test System Design
Modular test system design enables solutions that accurately reflect customer use cases.
No Prototype Vehicles
No prototype vehicles required for the optimization of the entire VTMS.
Independent Development 
Development is disengaged from weather conditions and regions.
Thorough Analysis
Analysis of the VTMS components and architecture for range and cabin comfort on the testbed.
Flexible Testing
Possibility of testing various VTMS concepts with different propulsion systems.
AVL Conditioning Systems
Gaseous and liquid media have a significant impact on the behavior of the device under test. Conditioning systems bring these media into a selectable and predefined range. Stable environmental conditions are essential to perform tests with high precision and reproducibility. These are conveniently and reliably provided by conditioned media. AVL conditioning systems are characterized by their modular design, their excellent functional expandability, and their compactness, making them mobile and versatile on the testbed.
AVL Climatic Chamber
The modular AVL Climatic Chamber simulates a wide range of extreme environmental conditions safely and reliably to deliver a high degree of flexibility while minimizing system downtime. Furthermore, thanks to its unique, application-based design with predefined interfaces, it guarantees fast and easy integration into the existing testbeds.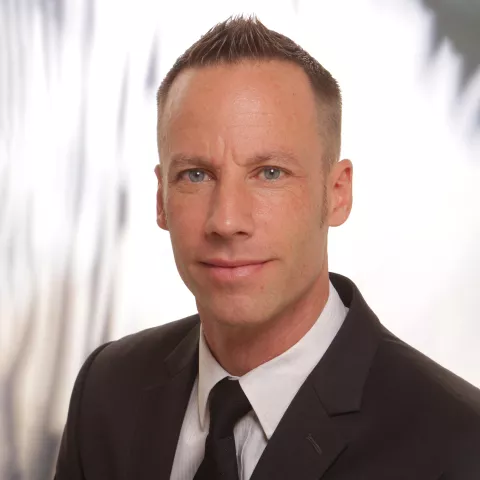 We provide products, solutions, and systems for thermal and environmental conditioning to enable our customers to develop their products with the highest level of efficiency."
– Stefan Nemec, Global Business Segment Manager, AVL List GmbH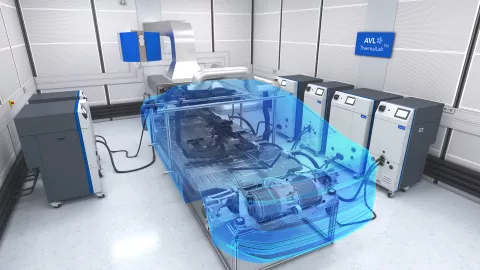 Thermal Test Systems
A vehicle thermal management system has a significant effect on the energy efficiency of the entire vehicle and the durability of all components in the propulsion system, such as the battery and inverter. Highly efficient systems require extensive calibration and testing time at vehicle level, which has a huge impact on development costs and timing.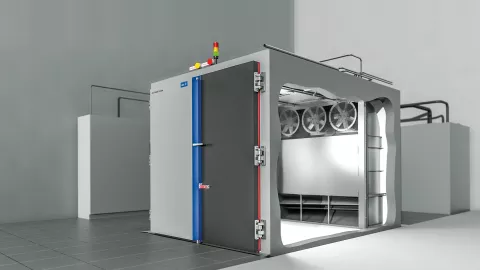 AVL Climatic Chamber
Battery packs, modules and cells, fuel cells, e-motor and e-axle solutions must operate safely and reliably in any environment. This can include extreme temperatures and humidity, which cannot be reproduced on the test track or in real test scenarios on the road. This is why we developed the modular AVL Climate Chamber.
Conditioning Systems
Thermal conditions and environment of Units Under Test have strong impacts on real results in driving. For this reason, the thermal simulation must be as exact as possible – which can be achieved via deployment of high performing media conditioning systems.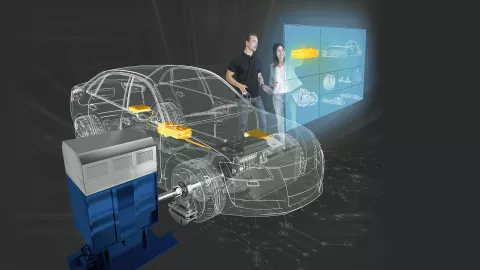 Bring Simulation to the Testbed With Testbed.CONNECT™
A powerful open execution platform that connects simulation models to the testbed.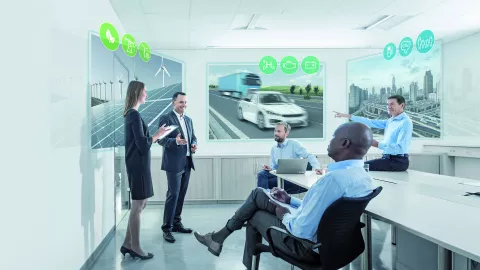 Mobility of Tomorrow: Are Affordability and CO₂ Reduction in Conflict?
As a global society, we are pushing hard to achieve a transformation to net-zero-CO₂ but without loosing energy security and our current living standards. The transformation in the mobility will come at cost, which endangers affordable individual mobility in the future. Doing nothing, however, will generate even higher costs.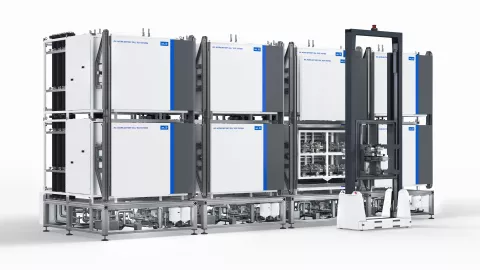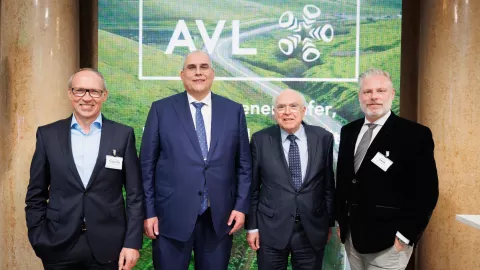 AVL at the 44th Vienna Motor Symposium
What kind of cars will we be driving in the future? These and other exciting questions around the topic of "Future Mobility" were addressed by more than 1,000 participants from 25 countries at the international 44th Vienna Motor Symposium. The tenor: Future automobiles will be CO2-neutral.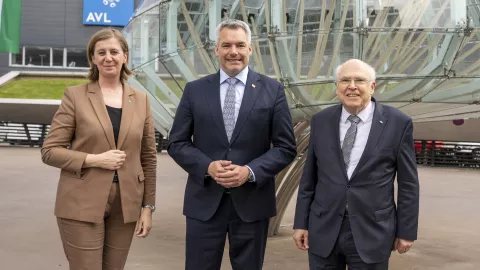 Austrian Chancellor Karl Nehammer visits AVL
What are the future trends and where are where are we heading when it comes to the technological developments in the Austrian mobility sector. These and other exciting questions were addressed by Austrian Chancellor Karl Nehammer during his visit to AVL headquarters in Graz.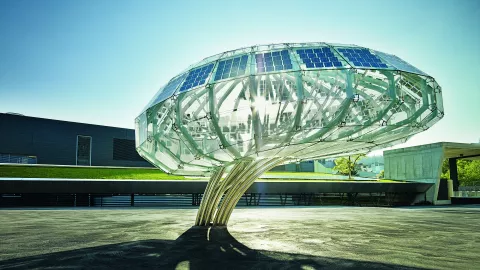 AVL Records Growth of 18 Percent and Continues to Invest in New and Sustainable Mobility Solutions
AVL generated 1.86 billion Euros in turnover last year – Eleven percent flows into research and development – 60 percent of the turnover is already generated by new technologies.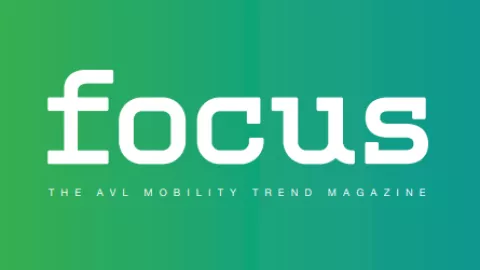 New FOCUS Magazine 2023
Make sure to explore various interesting topics in the latest issue of our Mobility Trend Magazine!
Do you have questions or want to work with us?
Our experts are happy to help.