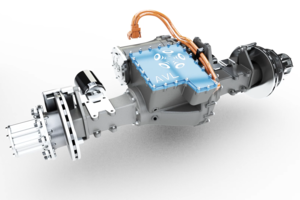 Highest productivity and short time-to-market
AVL e-axle systems for truck & bus
E-axle development for urban truck & bus - from system specification to SOP
AVL develops fully integrated e-axle systems for commercial vehicles. The compact packaging of all e-drive components (e-motor, transmission and inverter) provides maximum flexibility for the vehicle packaging. In addition, the e-axle improves the system efficiency.

---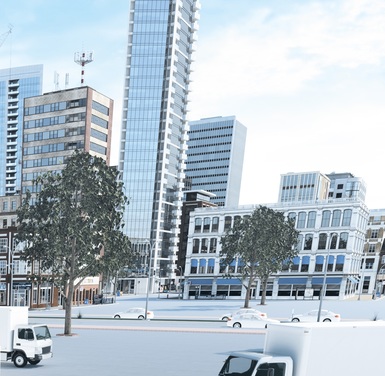 The Challenge
Zero-emission and zero-noise legislation
Which new vehicle concept supports me in achieving zero-emission transport?
How can we achieve zero-emission transport at limited development and product cost?
Is there a system already available for low volumes?
Is there a modular system that allows the re-use of sub-systems for different applications?
Which driving ranges can be achieved?
---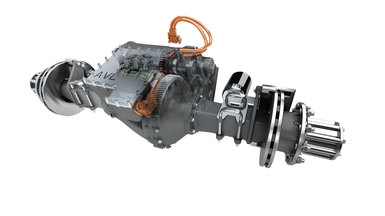 The AVL Solution
AVL develops fully integrated e-axle systems for trucks and buses, as well as modular family concepts covering different applications. All design stages of all e-axle components (e.g. e-motor, power electronics, transmission and axle body) are supported by in-house CAE. Beside the development of high-performance components, AVL also integrates supplier components - if required. The system integration is supported by a comprehensive testbed portfolio – for the individual components as well as the entire system.
---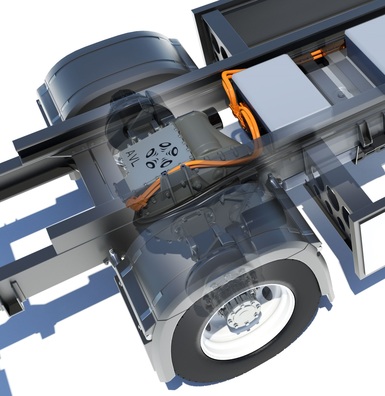 The Added Value
The existing e-axle concepts facilitate smallest packaging and highest system performance as well as low number of vehicle interfaces that enable highest vehicle packaging flexibility and system reliability.
The modular arrangement of the e-axle components enables an individual adaptation to customer's vehicle boundaries (family concept possible) and ensures lowest product cost
Short time-to-market and low development costs due to in-house component and system testbeds for e-motor, power electronics, transmission and the entire e-axle
Longest vehicle range with a given battery due to highest e-drive system efficiency
Reduction of system costs and weight by integrating different components into one system
Independence from hardware supplier section due to existing software and controls
E-axle released for production thanks to AVL's validation methodology (DVP, Load Matrix, functional and durability testing on testbed and vehicle)
---