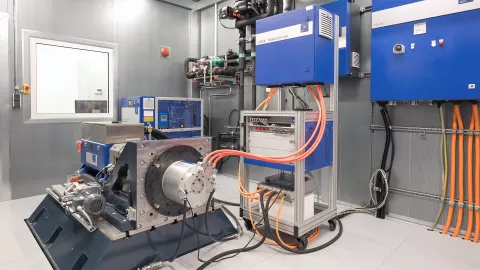 An e-motor test system needs the flexibility to test the full speed and torque range of different kinds of e-motors. Therefore, the overall mechanics, drive shaft, and dyno system need to be set up accordingly. Another challenge is completing the huge number of validation and verification tasks within the tight schedule. Our optimized and future-proof e-motor test system offers the flexibility to test units under test (UUTs) with wide range of speed and torque, and to test any type of modern e-drive system efficiently.
Ensuring that the performance, efficiency, and drivability of your e-drive is a perfect fit for the given vehicle requires many tests and optimization tasks. AVL E-Motor TS™ Performance, including software packages and ready-to-use applications, helps you to develop, test, and validate your e-drive rapidly and with the highest quality.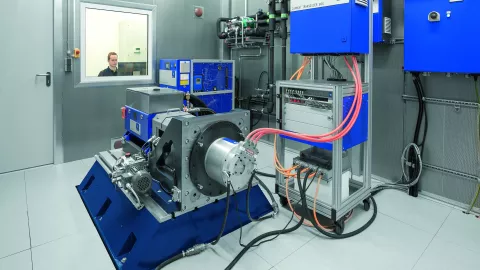 Specification & Testbed Design
To be prepared for future developments, we deliver the AVL E-Motor TS™ Performance with 25,000 rpm as a standard solution. Many additional features are available, including:
AVL PUMA™ automation system for easy automation, simulation, real-time capability, data recording, data storage, and much more
 
AVL CAMEO™ for e-drive optimization
 
Dyno and mechanics for high-speed and high-torque applications
 
Modern SiC dyno control cabinet with optimal control performance
 
High accuracy E-STORAGE battery emulator
 
AVL X-ion™ power analyzer, including e-Power toolbox for multiple applications
 
AVL Universal Inverter for e-motor development and tuning
 
Climatic chamber and climatic coolant conditioning unit for climatic tests
 
AVL high-dynamic torque sensor for e-drive NVH analysis and control optimization
| | |
| --- | --- |
| Property | Unit |
| AVL PUMA 2™ | E-motor GUI, 10kHz realtime system, 1 kHz step sequencer, models up to 10 kHz |
| Dyno | Speed 25,000 rpm, torque up to 1200 Nm |
| E-STORAGE SiC | 1200V |
| Universal Inverter | switching frequency 2 – 96 kHz, Output frequency max 2.4 kHz |
| AVL X-ion™ power analyzer | up to 12 Msamples, NVH measurements, dyn. torque measurements |
| Coolant conditioning system | –40 to 130°C |
| Climatic chamber | –40 to 150°C |
| Dynamic torque transducer | NVH analysis, 25 kHz, forces x, y, z |
Specific Software Products for E-Motor
With AVL PUMA 2™ automation, AVL CONCERTO™, and the e-power toolbox, AVL delivers several e-motor-specific software products for speeding up the development process.
Mechanics for a Wide Range of UUTs
The mechanical solution is optimized for high-speed and high-torque applications, and is the perfect basis for covering any test cases with different UUTs.
Toxic Torque Analysis
High-dynamic torque and forces measurements (X, Y, Z) for UUT performance and efficiency optimizations.
AVL SPECTRA™
High-Performance Dyno and Converter System
With its outstanding SiC technology-based design, the AVL load system is extremely performant, modular, and future-proof.
AVL X-ion™
So Much More Than a Power Analyzer
Outstanding solution to analyze and optimize both electrical and mechanical characteristics for any kind of e-motor.
AVL CAMEO™
For E-Drive Optimization
AVL CAMEO™ is the software tool you need to tune your e-drive system for the best efficiency, drivability, and NVH behavior.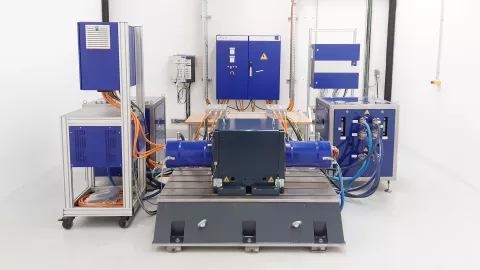 AVL E-Motor TS™ Durability
The AVL E-Motor TS™ Durability is a 4-quadrant e-motor durability test system, operational 24/7.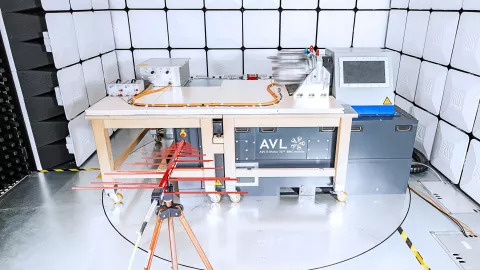 AVL E-Motor TS™ EMC
Validate the electromagnetic compatibility of your electric drive with our specialized test system.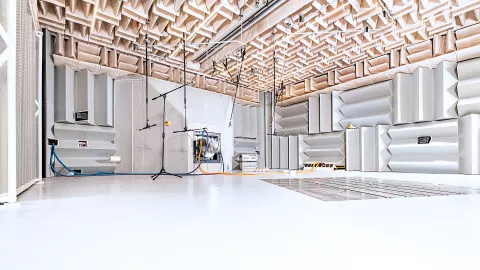 AVL E-Motor TS™ NVH
Electrified propulsion systems are a growing part of modern transportation. The changing noise/sound landscape is increasingly demanding modern NVH engineering. At AVL, we have solutions and processes for optimizing the design and quality assurance of interior and exterior vehicle sound.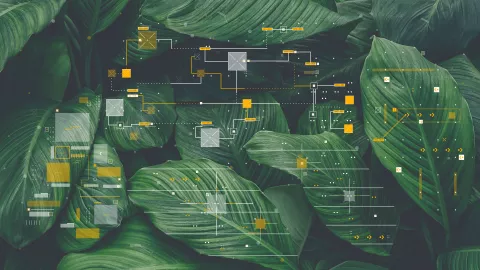 AVL CAMEO 5™
AVL CAMEO 5™ unlocks a new maturity level of calibration and validation in automotive software testing.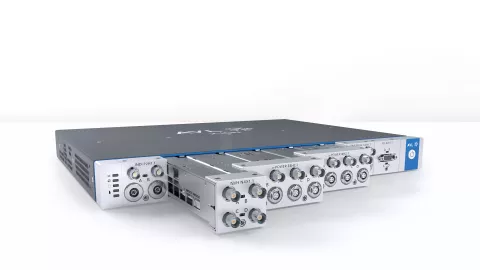 AVL X-ion e-Power
The AVL X-ion™ e-Power power analyzer is a modular data acquisition platform that is optimized for electric and hybrid applications.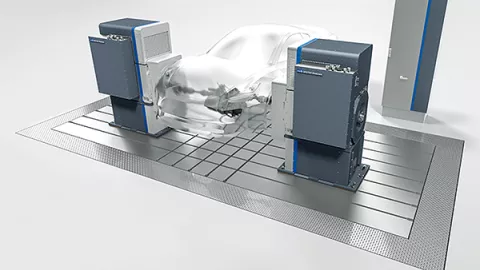 AVL SPECTRA™ Wheel Dyno
The SPECTRA converter system is a modular silicon carbide (SiC) converter able to control wheel dynos at unprecedented levels of control accuracy and dynamics thus helping you to test your powertrain with confidence.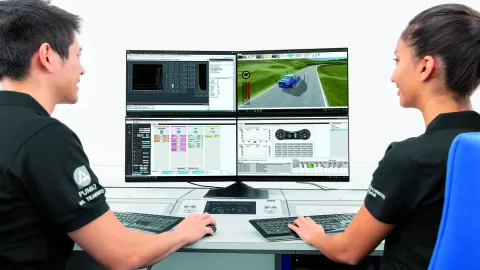 AVL PUMA 2™ E-Motor
The best-in-class automation system for e-motor testing.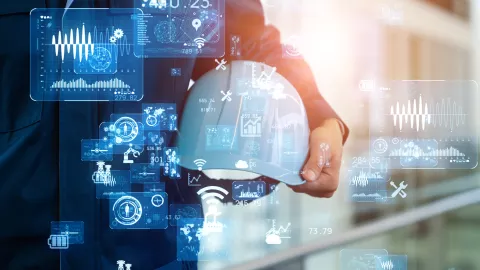 Customer Services for Testing Solutions
The AVL Customer Services organization consists of more than 700 service- and application engineers worldwide, operating from more than 50 locations. Our global footprint is your local benefit.
See what drives us and explore our latest developments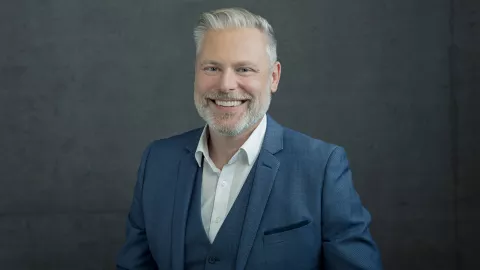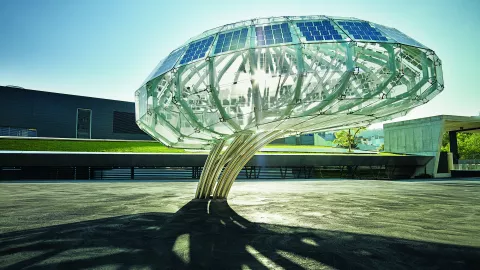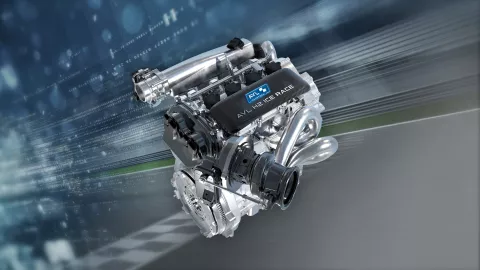 AVL RACETECH Builds Hydrogen Combustion Engine for Motorsport
AVL RACETECH, the motorsport department of AVL, presents the prototype of an innovative H2 internal combustion engine. The power unit is a compact, hydrogen-powered 2-liter turbo engine, with intelligent water injection, which achieves a totally new performance level. The first racing engine that AVL RACETECH is developing and building in-house.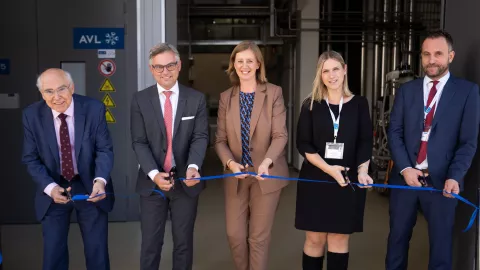 Do you have questions or want to work with us?
Our experts are happy to help.